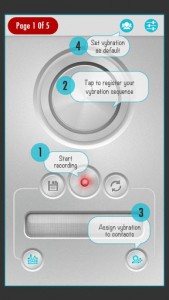 Vybe is an application that will allow you to create custom incoming call vibrations for each of your favorite contacts. This application is great for those who normally keep their phones on vibrate, but still want to know who is calling without having to look at his or her device. This application is also great for those who are constantly in meetings or other places that require them to be quiet, especially when  it comes to smartphones.
What is it and what does it do
Main Functionality
Simply put, with Vybe you create a custom vibration for individual contacts. Think of it like having a custom ringtones for specific contacts, except this is vibration.
This application is extremely simple, but does however have the potential to be popular with a specific type of Android user. While some users won't see the need for this type of application, there is fact a lot of people that hardly ever have the devices on ringer due to work or simply personal preference.
Pros
Create custom vibration sequences for contacts
Register patterns by tapping
Register patterns by recording
Manage saved patterns
Cons
Cannot easily see assigned contact while managing patterns
Discussion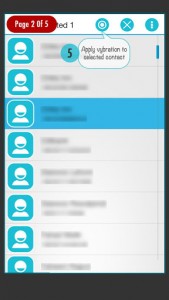 While smartphones have become an important part of our society, we are still figuring out more and more ways of using them as little as possible. Ever since the ability to set custom ringtones for individual contacts became popular, users have loved the fact that you can know who is calling you without even looking at your device. While this is normally great, it doesn't help if your phone is on vibrate. There are plenty of users out there who simply have their phones on vibrate significantly more than ringer. This could be a result from personal preference or professional constrictions. Either way, Vybe is an application designed to bring the previously mentioned convenience to users that favor their phones on vibrate.
As you can imagine, there are not many extra features packaged with this application. In fact, there are no extra features. The developer(s) set out looking to add one simple feature to Android and nothing else. Within the setup menu, you will be given two options on how you want to set your vibration pattern., You can either tap the pattern, or you can record it. This makes it easy for you to get the exact pattern that you want. As far as pure functionality, everything is flawless. The only major downfall is the fact that you cannot easily see which patterns are assigned to which contacts while you are managing your patterns. This is but a mild inconvenience and doesn't take away from the overall functionality of the program.
Conclusion and download link
Overall, this application is nearly flawless and has worked perfectly every time I tested it. While it will undoubtedly only appeal to a small portion of Android users, it will provide a functional and simple experience to all. As a result, those looking for this particular feature should look no further than Vybe. Perhaps this application will contribute to more users being attracted to the idea of having custom vibrations. Ringtones are simply not as popular as they used to be, so maybe people are slowly beginning to enjoy the potential silence of their devices.
Price: Free
Version reviewed: 1.2
Requires: Android 2.2 and up
Download size: 4mb
Related Posts