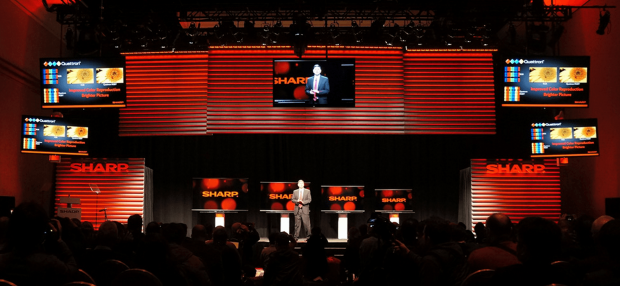 I'm noticing a trend here. First it was Apple, then Qualcomm — and now Sharp has announced and confirmed reports that they will be receiving $112 million from Samsung.
This deal nets Samsung a 3 percent stake in Sharp, making them the largest non-financial institution stakeholder and the fifth largest overall. But perhaps more notable is how the deal guarantees Samsung access to Sharp's LCD supply, which they are reportedly interested in for the 32-inch TV panels.
Before this current deal was finalized, Sharp was in talks with Taiwan's Hon Hai Precision to form a partnership in producing LCDs. But due to Sharp's share price taking a severe hit, that opportunity fell through.
Fortunately for Sharp, they'll be able to use the money from Samsung's investment to expand (and continue) their panel production for now, after worries of funding and major losses plagued the company throughout last year. And after another huge investment in the company, it might be safe to say for now that Sharp isn't going anywhere anytime soon.
[via Gizmodo]
Related Posts