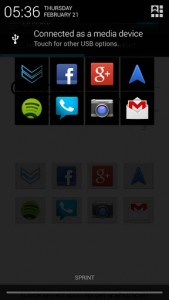 Quickly is an application that puts a live section in your notification bar that will contain shortcuts to various applications. This application is great for those who don't like having to constantly press the home button and go into their application drawer in order to switch between applications. It is also great for those who simply like using their notification bar for more simple tasks instead of only notifications.
What is it and what does it do
Main Functionality
This application is essentially designed to give you an alternate location that you can go to to launch your favorite applications. It can handle more than just applications and will actually support a link to most popular shortcuts as well, making any normal task on your device much more simple.
Pros
Add up to 12 applications or shortcuts to notification bar
Lightweight
Cons
No documentation or clues
Discussion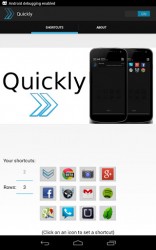 With Google's release of Android 4.0 Jelly Bean, the company attempted to shine the spotlight on notifications for once. Notifications are a certain aspect of Android that is constantly overlooked. With Google's latest implementation, notifications are now capable of displaying much more information. Quickly is capitalizing on this spotlight and is taking Google's implementation one step further. Quickly will display 12 applications or shortcuts in your notification bar, making them only a swipe and a tap away. This is an incredibly efficient way of launching applications. Best of all, the application is extremely lightweight and consequently, doesn't use extra battery life or other resources.
https://www.youtube.com/watch?v=tKDRLVZrQB4&feature=player_embedded
Quickly is a really terrific application that can be incredibly useful for a wide variety of users. The only downside is that there is no manual or clues that will tell you how to use the application. This means that the user is forced to watch the video on the Play Store (shown above) in order to understand how to use the application properly. This is unfortunate because in some cases, we install new applications and don't have the time to watch a video before we use it. However, this is but a minor inconvenience and doesn't take away from the overall functionality of the application.
Conclusion and download link
Quickly is certainly an application that could be easily adopted by anyone. Its simple and logical way of hiding an application bar is very unobtrusive and convenient for any type of user. Android users are always concerned about finding ways to make application launching and multi-tasking easier. With Quickly, some users may have just found the perfect solution for their unique and individual needs.
Price: $0.99
Version reviewed: 0.99.7
Requires: Android 4.1 and up
Download size: 1mb
Related Posts