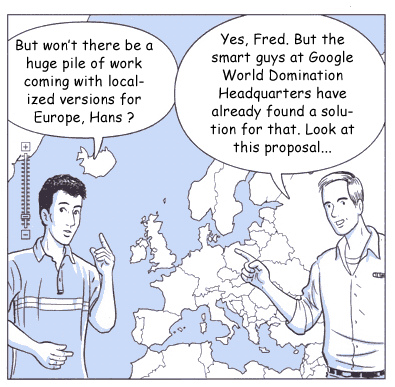 Remember that $732 million fine Microsoft was hit with by the EU because Microsoft did not include browser ballot box in Windows 7 SP1? Yeah, well, as it turns out it the EU did not find out about the "error" by mistake. They had help. From Google.
According to a report by the Financial Times, the European Commission that fined Microsoft was informed by Google that Windows 7 SP1 does not have the browser ballot box. It was after that that the Commission started investigating the issue which finally resulted in the $732m fine.
To top it off, Google apparently wasn't the only entity complaining either. Opera Software, the people behind the popular Opera browsers on desktop and mobile, also reported Microsoft to the Commission for not having the browser select screen.
Of course this isn't the elementary school playground. Snitching is fair game when millions (billions?) of dollars are at stake. However, it would be poetic karma (note I didn't say justice — I don't believe EU forcing browser ballot box is justice) if the EU turned around and forced Google to do something similar on Google's popular Android platform. How likely is this to happen? Probably not very as long as iPhone is the most popular smartphone in the world, despite Android's overall dominance of iOS. But if it does…
In any case, I believe the best thing to say here is: Microsoft just got scroogled.
[via Financial Times, BGR, image via Seph]
Related Posts