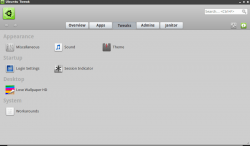 If you're an Ubuntu user that isn't totally sure about where all the options for customization and tweaking are, Ubuntu Tweak is something you need in your life. Along with making customization options easy to access, Ubuntu Tweak also allows you to clean up your Ubuntu system. Ubuntu Tweak offers many system cleaning tools and overall simplifies the process for even the most novice of Ubuntu users.
WHAT IS IT AND WHAT DOES IT DO
Main Functionality
Ubuntu Tweak allows you to get the most out of your Ubuntu Linux system. Ubuntu Tweak can help you change your icon theme, sound theme, or login screen and more. Ubuntu Tweak can also clear out your apt cache in a nice, neat and clean graphical user interface. It can easily free up space being occupied by old package files, old kernel files, and especially old package configuration files.
Simply put, Ubuntu Tweak helps you better customize your Ubuntu system, as well as keeping it healthy along the way.
Pros
The icon theme changer brings back a simple way to change the look of the icons on your Ubuntu system (something that Canonical removed in versions 12.04 and up of Ubuntu).
Has a Janitor function that allows users to free up hard drive space that is being held hostage by old package files.
Offers statistics on how many packages can be freed and how many megabytes or gigabytes can be given back.
Gives users access to basic tweaking functions that they would otherwise need to ask the Ubuntu forums about.
Has built in system recovery software.
Cons
Does not offer any tweaking options of Ubuntu's Unity desktop environment.
Janitor function sometimes perpetually loads when too many items are clicked on at one time.
Login screen customization isn't very compelling.
Discussion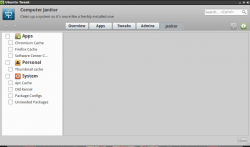 Ubuntu Tweak is a truly amazing tool. No, I'm not just saying that. In the Linux universe it is sometimes very hard to come by an application that covers all the bases. For instance you might find an application that can clean up your system just like Ubuntu Tweak, but good luck finding an application that can also manage your software sources, use built in system recovery software, and change your system's icon theme. This application truly does have it all. There's just so many features I could list off, but you're going to need to download it yourself to truly gauge the enormity of it all.
Sure. There might not be any tweaks that can help you improve your Ubuntu Unity desktop environment, but it makes up for it with the slew of features that a novice could find very valuable. The Janitor function can sometimes slow down a bit when there's too much going on, but when it works (which it does 99.9% of the time) it can be one of the most valuable tools you have to keep your computer in good health.
Ubuntu Tweak can be a great asset to a novice user, but can also streamline menial terminal commands for advanced Ubuntu users. The program is fast, and does everything it says it will do.  Linux can be stigmatized and labeled as hard to use. However, Ubuntu Tweak can help you learn the ropes of managing your Ubuntu Linux system, all while helping you customize, and personalize along the way.
CONCLUSION AND DOWNLOAD LINK
Overall, Ubuntu Tweak comes highly recommended from me. As an advanced Linux user, I can personally say that it has helped me make my computing experience better. The program is open source and community based. I install it on almost every Ubuntu Linux computer I come across. I have yet to come across a program that can do more than what Ubuntu Tweak can do.
Price: Free
Version reviewed: 0.8.3
Supported OS: Ubuntu Linux 11.10 and up
Download size: 912KB
Is it portable? No
Related Posts