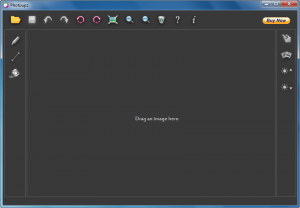 Have you ever used the clone stamp tool in an image editor? Clone stamp allows you to remove objects in an image by by "painting" over the objects with other parts of the image. While clone stamp is a very useful tool, it can be a bit tedious. To automate the work of clone stamp and to easily allow removal of unwanted objects in images, there are tools that do what clone stamp does but remove much of the tediousness. We have already reviewed two such tools on dotTech, InPaint and SoftOrbits Photo Retoucher. Photoupz is another program that does the same. Let's see if it is worth your time.
WHAT IS IT AND WHAT DOES IT DO
Main Functionality
Like the previously reviewed InPaint and Photo Retoucher, Photoupz allows you to easily remove objects in images. All you do is color the objects you want to remove using the marker tool, use guide lines to help the process if you want, then hit the process button — Photoupz uses its algorithm to fill in the area you selected with other parts of the image, effectively removing the object.
The following short demo video shows Photoupz in action:
Pros
Automates what would otherwise need to be done with clone stamp; allows easy removal of unwanted objects in images
Has guide lines which you can use to help tell the program how to better fill in the marked area
The brush size of the marker can be controlled, which is helpful for when you are filling in different sized objects
In addition to object removal, can: rotate, resize, denoise, sharpen, and increase/decrease brightness
Has undo/redo (with hotkey support) and zoom in/out features
Allows users to easily compare work to original image by right-clicking
Supports JPG/JPEG, PNG, BMP, GIF, and TIFF images
Reasonably priced
Cons
Won't perfectly remove undesired objects. You most likely will need to process an area multiple times before you get the desired results, plus make use of guide lines. The developer even says in the Help file: "Inpainting result might not be perfect after the first run of the algorithm – if you notice undesired outcome, try to repeat the process by marking and inpainting the desired areas again." Plus, Photoupz does not work as well on complex images as it does on more simple ones.
Needs more than just the marker tool for selecting areas, e.g. the ability to outline an area and having it fill in itself would be a lot more user friendly in some situations than the paintbrush-like marker that currently exists
Needs to provide better guidance as to what guide lines are and how to use them

Note: From reading the Help file, my understanding is guide lines should be used to border off different textures of an image and to match the shape/direction/form of the background. However, I'm not exactly sure what guide lines do and the developer of Photoupz is not very clear about it.

When you undo the processing of an image, the selection and guide lines don't come back — the image is simply restored one step back. This means you have to re-mark the object you want to remove after undoing. It would be much more useful if the selection was restored whenever you undo so you wouldn't can to re-mark it every time.
Is a bit slow when processing images
Requires .NET Framework

Note: On its website, developer says ".NET Framework 2.0, 3.0 or 3.5" is required which leads me to believe Photoupz will work with .NET Framework 2.0 and higher but I am not completely sure.
Discussion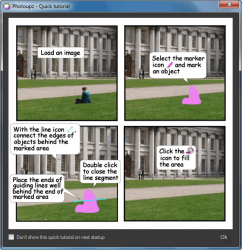 Using Photoupz to remove unwanted objects from photos or images is fairly easy; use the marker to color the object you want to remove, use guide lines if you feel they are necessary, then click the processing button and Photoupz attempts to remove the object. However, while this may sound good on paper, in reality it isn't that simple.
Because of its automated nature, you will find that Photoupz does not always provide the desirable result. Indeed, I can almost guarantee you will need to process an object or parts of the object multiple times before you get the desired result. Even then, if the image you are trying to remove an object from is a complex image, then you likely won't ever get a good result with Photoupz. What constitutes a complex image? Honestly, it just depends — there are no words to describe it. However, if i I were to try, I'd say an image with multiple textures is complex; when you try to remove an object that has a background of more than one texture or color, then Photoupz has trouble. If you use Photoupz to remove an object that has more of a uniform background with one texture, then Photoupz performs well.
If I were to sum up the performance of Photoupz, I'd describe it as "good" but not "great"; it is better than Photo Retoucher but not as good as InPaint.
What makes InPaint better than Photoupz isn't necessarily the underlying algorithm. I cannot tell you which program has the better algorithm because I haven't looked at the algorithm itself and, frankly, even if I did look at it I probably still wouldn't know because that isn't my expertise. Rather, what makes InPaint better than Photoupz is InPaint allows users to easily define the area of the image InPaint should use to paint in the object you are trying to remove (the resize rectangle in InPaint allows you to do it). This greatly increases the chances of InPaint replacing the undesirable object in the way you want and reduces the number of times you must re-process the same object or object parts. Photoupz does not have this.
InPaint also one-ups Photoupz by providing different selection tools. While Photoupz only has a marker, InPaint has a marker, magic wand, polygon, and freehand selection tools; this makes InPaint more user-friendly than Photoupz. Of course, Photoupz does have featuers that InPaint doesn't, namely the ability to resize, denoise, sharpen, and increase/decrease brightness. However, these features are not the core functionality of Photoupz; it is better to do one thing better than to add extra features.
CONCLUSION AND DOWNLOAD LINK
Photoupz is a good program. However, I don't recommend it simply because InPaint, a rival program that has the same core functionality, is better. Also, while InPaint and Photoupz cost the same for home/non-commercial use (Photoupz: $19.90; InPaint: $19.95), Photoupz is actually more expensive for business use — $29.90 vs $19.95. If you like the automated-clone-stamp capabilitiy of Photoupz, I'd suggest checking out InPaint. You can also check out a free version of InPaint at Web Inpaint.
Price: $19.90/$29.90
Version reviewed: 1.63
Supported OS: Windows XP/Vista/Win7
.NET Framework is required
Download size: 1.5MB
VirusTotal malware scan results: 0/46
Is it portable? No
Related Posts