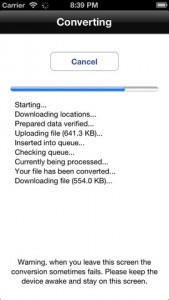 I can't tell you how many times I've been collaborating with people at work or at play on some project, and things have come to a grinding halt because we're all using different file formats and someone's files just aren't compatible. This can be especially annoying if you're on the go or traveling. However, an app like File Converter Free can help you quickly and easily convert all kinds of files types on the go.
What is it and what does it do
Main Functionality
File Converter Free allows you to convert files to archives, audio, documents, eBooks, images or videos. This is the free version of File Converter which allows only 1 successful file conversion. After that you need to buy the full version in order to continue converting files.
Pros
100 source formats are supported
Upload converted file to a WebDAV server, Dropbox account, or FTP server
Use File Sharing from iTunes to transfer converted files to your computer
App keeps a list of files you have converted in the past
Easy to find the file type you'd like to convert to from drop-down list: everything is organized by file type, not file name
Fairly quick conversion process, even with large files
App has a progress bar and text updates during the conversion process so you're always aware of where you are in the process
Cons
Is not really free. You can only convert one file before you must upgrade to the paid version.
Leaving the app during conversion can sometimes cause the conversion process to fail: for best results, you have to keep the conversion screen up until conversion is complete
Files with DRM, files over 100 MB, and files with password protection cannot be converted
Some users might dislike that the converting is done by uploading your file to their servers (it is deleted after conversion)
Discussion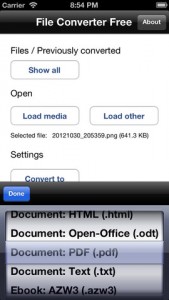 After conversion, File Converter Free will let you open, export, delete, or share to your computer. You can convert audio files into AAC, AIFF, FLAC, M4A, MP3, OGG, OPUS, WAV, or WMA. As for images, these can be converted into BMP, EPS, GIF, EXR, ICO, JPEG, PNG, SVG, TGA, TIFF, WBMP, or WEBP.
One really great use for this app is converting Word or PDF docs into a file format that will play nice with your e-reader of choice. Depending on the selected format you can change all kinds of file info, including the the Ebook title, Author, encoding, or enablling ASCII ouput. You can convert files so they will work on the Kindle, Mobipocket, Kobo, Nook, or many other format.
It would be nice if you could convert 5 files, rather than just the single one in the "free" version. It's a good way to test the app, but it would be nice to test several different file formats. That being said, even the one file conversion I did worked well, and it gave me an idea of how good this app is.
Conclusion and download link
If you're concerned about wasting money, a "try before you buy" app is always a good way to test the waters before you plonk down any of your hard-earned cash. Give File Converter Free a try, and you can decide for yourself if it will suit your needs before buying it. It may not be the zippiest file converter out there, but it is stable, simple to use, and easy to navigate. So what if it's kinda bland-looking? It's a file converter app: as long as it works, I don't care as much about design.
Price:

Version reviewed: 4.80
Requires iPhone/iPad/iPod Touch, iOS version 
Download size: 2.1 MB
File Converter Free on Apple App Store
Related Posts