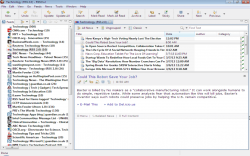 Frequent news readers are bound to have tons of RSS feeds strewed about their internet browser, and obviously dotTech has reviewed RSS clients in the past, but RSSOwl is a serious contender. It allows for you to get your favorite RSS feeds in a unique way, and helps you discover new RSS feeds that are similar to what niches you specifically specify.
WHAT IS IT AND WHAT DOES IT DO
Main Functionality
As I teased above, RSSOwl is an RSS feed aggregator and reader. RSSOwl is built using the Java runtime environment which allows it to be easily ported to other operating systems like Mac and Linux. RSSOwl is also open source and community driven, which is a rarity on the Windows operating system.
Pros
Add whatever and how many RSS, RDF, and Atom feeds you desire.
Google Reader integration.
Multiple tab support.
Embedded web browser lets you view full content straight within RSSOwl.
Sophisticated feed grouping.
Newspaper view.
RSSOwl is open source.
Keyword feed searching.
News bin feature allows you to save anything that you like.
Excellent social network integration.
Popup notifications.
Great export and import features.
Cons
Requires Java be installed.
Clumsy user interface.
Button customization is terrible.
Integrated web browser is limited.
Pop up notifications can get monotonous and annoying at times.
Discussion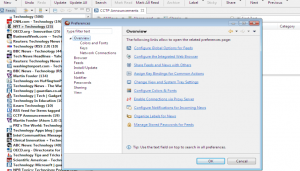 I'm not a big desktop application for online services kind of guy. Usually when I get my Ubuntu or Windows system up and running I uninstall the email client it comes with and whatnot. I'm just not too big on having everything be so decentralized. So, for me to WANT to use a program like this it has to be halfway decent. I mean, yeah, it has to do all the obvious things, but it also has to compel me to be interested in it enough to want to open it outside of my web browser.
RSSOwl comes pretty close. It has some very compelling features. 'News bin', pop-up notifications, keyword feed searching, social network integration and Google reader support are the main features that stand out to me. It's a decent desktop application if you're the type of person that likes to take the internet out of their browser and onto the desktop. It's worth checking out, and who knows, you might enjoy it.
As for me, I'll probably continue using Google Reader in my web browser. I really just can't convince myself to install an application like this for day to day use. I guess I'm just set in my ways with the way I conduct my internet browsing. I really feel that all these types of programs could have just been internet browser extensions. However, I have to give it to RSSOwl. It's one of the more interesting RSS readers that I've seen… and I've seen a lot of them.
CONCLUSION AND DOWNLOAD LINK
If you're an RSS feed hound, this program is a must see. RSSOwl has some truly compelling features, and if you're the type of person that wants a robust, powerful, and fast RSS feed reader, this may be just what you're looking for. It's not quite as fluid as some of the more well known desktop feed reading programs, but it does bring its own spin to the table. RSSOwl is indeed a true contender in the RSS agregator space. With RSSOwl's interesting features and low memory footprint, you'd be doing yourself a disservice if you don't at least try it out.
Price: Free
Version reviewed: 2.1.6
Supported OS: Windows XP, Windows Vista, Windows 7, Windows 8
Download size: 3.8 MB
VirusTotal malware scan results: 0/46
Is it portable? No
Related Posts