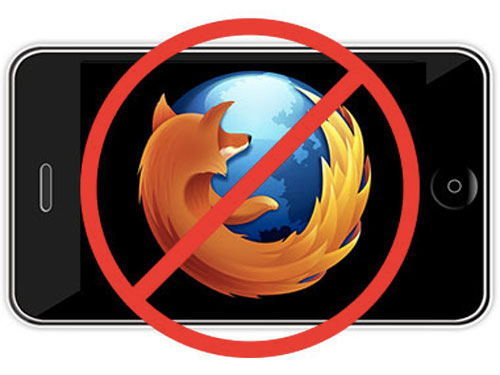 Firefox is on Windows. Firefox is on Android. Firefox is in Linux. Firefox is in Mac OS X. Firefox, however, has yet to be released on iOS (a function-limited non-browser Firefox app was available on iOS last year but was pulled later by Mozilla) and now never will be released on iOS due to Apple's strict App Store requirements.
You see Apple requires all browser apps on Apple App Store (aka the only medium to distribute iOS apps for iPhone and iPad, unless you specifically target the jailbreak audience) to use the WebKit rendering engine. Mozilla uses their own Gecko engine for Firefox. If Firefox were to be released on iOS, it would require Mozilla to use WebKit instead. And Mozilla has decided it doesn't want to bend to Apple's will: Mozilla VP of Product Jay Sullivan announced at the SXSW conference that Mozilla is no longer developing Firefox for iOS and will not develop Firefox for iOS until Apple eases restrictions and allows use of non-WebKit engines.
Does this mean iOS users will suffer? Firefox fans will yes, but there are plenty of other browsers available on iOS — Safari (which comes preinstalled), Chrome, and Dolphin to name a few. So lack of Firefox on iOS likely won't affect very many people. However, as Ryan Paul of ArsTechnica said last year, Apple forcing everyone to use WebKit means "the only thing that will differentiate [iOS browsers] from other [iOS] browsers [is] the user interface".
[via ArsTechnica, image credit: unknown]
Related Posts