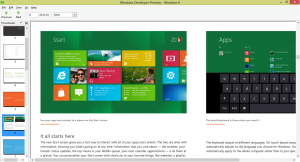 If you're on Windows and you're a PDF junkie, an e-book hound, or a digital comic book fan, you might want to listen up. If you don't want to be stuck with Adobe Acrobat Reader — you know, the bloated, slow, and almost unresponsive PDF reader that Adobe offers up — you may want to check out Evince. Evince is part of the Linux Gnome Project, but has been made available on Windows and is a very nice alternative to the infamous Adobe Acrobat Reader. (Note: Also check out dotTech's review on best free PDF reader for Windows.)
WHAT IS IT AND WHAT DOES IT DO
Main Functionality
Evince, when it comes down to it, is a document reader. It supports many formats including the infamous PDF file. It's lightweight, fast, and clean. You can read many types of document formats including: PDF, Postscript, DjVu, multi-page TIFF, DVI, XPS, and even digital comic books. It covers a lot of features you'd expect from a document reader.
Pros
Supports for PDFs, Postscripts, multi-page TIFFs, DVI, DjVu, PPT, and comicbook files (e.g. .cbr)
Document search integration
Page indexing
Page thumbnails
Bookmarking feature
Open source and community driven
Cons
Is a "document reader" but doesn't support many mainstream document types such as DOC/DOCX, CHM, RTF, etc.
PPT support is rough and in early stages
Often forgets page zoom levels after the program is reset.
Zooming pages sometimes take a while to load.
It's a bit of a letdown to have to remember a hotkey or the "view menu" to search the document. I'd rather have a search bar
Very decentralized with no sense of direction for the program; a lot of future functionality is a "maybe", "should be", "we don't know"
Discussion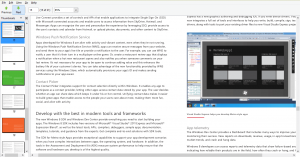 I'm a big fan of e-books and digital comic books. On windows, your options are somewhat limited, so it's very refreshing to find a document reader that does more than just PDFs and a few other formats. Evince gets the job done, albeit slow at times, it gets the job done. In my intro, I stated how Adobe Acrobat is bloated, and slow, and for most cases this is true, and it is also worth noting that (personally) I am not a fan of adobe, so it is very understandable that I would seek out an alternative to Acrobat, and Evince is a decent replacement.
There's a huge market of dissatisfied users that have come from using Adobe Acrobat and are actively searching something better. This is where Evince shines. It has decent features like support for various types of files, page indexing, document search, and all the things you'd expect a document viewer to have. The page might lag a bit when you zoom in and out, but as far as it goes it's pretty solid. Though, anything is better than Adobe Acrobat.
I don't really see myself using this program every single day, but, for my PDF needs it's going to stay installed. I enjoyed what it has to offer. Evince is great for your basic document viewing needs. I was really impressed with the comic viewing features, it was a pleasant surprise  considering I was setting off to review the most boring type of application in the known universe. Evince gets the job done.
CONCLUSION AND DOWNLOAD LINK
If you're in the market for an alternative PDF/document viewer, and you're not really interested in bloat, you really need to take a look at Evince. It might not be the most exciting program ever, but it does what it says. A bonus about Evince is that it's produced by the Gnome Project, a project in the open source community, one that believes software should be free. Evince is standard in anything they create, so you know it is of decent quality. If you're not too happy with Adobe Reader and you want something better, Evince is worth the download.
(Note: Also check out dotTech's review on best free PDF reader for Windows.)
Price: Free
Version reviewed: 2.30.0.145
Supported OS: Windows XP, Windows Vista, Windows 7, and Windows 8
Download size: 31.6 MB
VirusTotal malware scan results: 1/46
Is it portable? No
Related Posts