Lemon Wallet is an application that allows you to store all your cards in digital form in the cloud which is then accessible on your phone. Basically it digitizes your wallet and, if you have a phone that supports near-field communication (NFC), you can even use Lemon Wallet to make payments. This application is perfect for those who hate carrying around a wallet with all of their personal information and are looking to simplify their financial lives. It is also great for those looking to test the convenience of NFC technology as it will be the perfect example.
What is it and what does it do
Main Functionality
This application is designed to make carrying around a physical wallet almost unnecessary. It aims to make your life more convenient by digitizing all of those pesky cards you may carry around with you.
Pros
Store and backup cards in cloud
Real-time transaction and balance updates
Earn merchant rewards
Lemon Smartcards
Cons
No ability to store your information offline only — everything is stored in the cloud
Requires NFC to make payments (but not to digitize your cards)
Free version does not have lost wallet service or card monitoring
Free version cannot use App Lock or remotely unlink devices
Free version does not have receipt sharing or processing
Free version cannot export data
Paid version is expensive
Discussion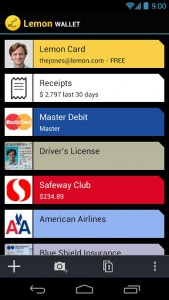 Perhaps the most futuristic technology in Android devices is the one technology that a lot of people don't even know exists. Using NFC technology, Google and even Apple are trying to change the way people carry around cards and make payments. All modern phones now are being released with NFC chips. These chips make it possible for your phone to automatically send information wirelessly to another NFC-enabled device. In this case, Lemon Wallet will virtualize credit cards and other items in your wallet so that you can make payments and transfer the information through your phone. If executed properly, this type of technology could eventually make physical wallets obsolete.
Lemon Wallet takes advantage of the growing popularity of NFC technology by digitizing your wallet and making payments with your digitized cards if you have NFC. You will be able to capture and store your physical cards in the cloud. This cloud support will help you if you lose your wallet because there will always be a backup copy. The application will also provide you with real-time transaction and balance information, making it easy to stay on top of your spending. The best part is that all of your existing and future rewards that you receive for using your credit of debit cards will be compatible with your virtual cards.
Unfortunately, there is a lot keeping this application from being adopted by the masses. For starters, this application requires that the user have an NFC-enabled device. A full list of devices that use the technology can be found here. If you are lucky enough to have an NFC enabled phone, then you will have to deal with deciding weather or not to take the plunge and upgrade to the Plus version. The downside to this is that the overall price is rather high because you actually pay by the month or year instead of a one time purchase. On the other hand, if you choose note to upgrade, then you are unfortunately missing out on the bulk of the features this application provides.
Conclusion and download link
Overall, it seems that the complete target audience for this application is extremely small. Most people at this point are not actively using NFC technology and at the same time, most Android users are not willing to pay such a high monthly fee to use a service like this. However, NFC will without a doubt become more popular as mobile devices progress and when that happens, applications such as this will undoubtedly become more popular as well.
Price: Free, $4.99/month, or $39.99/year (Plus)
Version reviewed: 6.6.6
Requires: Android 4.0 and up
Download size: 13mb
Related Posts