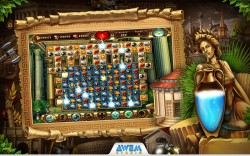 There's something wonderfully satisfying and addictive about "three-in-a-row" matching games. Sliding tiles into place, watching them collapse down…it's mindless and still tons of fun. I mostly play these types of matching games on my phone, but I recently found a matching game that's good enough to play on my Mac. Cradle of Rome is a fun matching game, but includes a little something extra from a different game genre as an incentive to keep players playing.
What is it and what does it do
Main Functionality
Cradle of Rome is a matching game that pulls elements from resource-allocation and building games. As you match tiles, you get resources like timber and gold, which are used to build the great city of Rome. Think of this game as Bejeweled crossed with Settlers of Catan.
Pros
Really addictive gameplay that encourages you to strategize your matches and get the best bonuses
More engaging than other match-three games, thanks to the need to gather resources to build your new city
Cons
When exiting the app, all windows open in other programs will be re-sized: how annoying!
The full game includes 100 levels, but the free version only lets you play up to about level 15 (paying to upgrade will cost $6.99). You can upgrade to the full version without leaving the app.
Discussion
As you progress through Cradle of Rome, you'll travel through five different 5 historical epochs,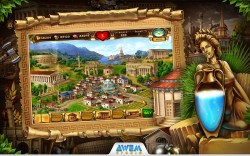 watching as your hard-earned materials are turned into villages, monuments, and famous Roman landmarks.
The mechanic whereby your match-three earning determine when you can upgrade your city really helps to make players think carefully about their next move, in order to maximize the resources earned. Cradle of Rome (Free) does cut you off before you can finish the game, but you can get plenty of play time in before you need to upgrade. Upgrading to the full version of the app from within the game itself costs $6.99.
Now, if you are able to solve the puzzles that they present you with, you get to become master of Rome and enter Olympus – the home of the gods! You'll also be able to reconstruct masterpieces of Roman architecture or build the Coliseum to train gladiators. If you like Ancient Rome, the window dressing of this matching puzzle game is sure to please.
One thing I really enjoyed is the ability to keep making new matches even as your old matches are still causing cascades on another part of the game board. I hadn't seen that ability in other match-three games, and it really does keep the game feeling exciting.
Conclusion and download link
If you love match-three games but are starting to crave something a little different, the materials-based system of Cradle of Rome is a fun twist on a classic match game formula. Check it out if you're a fan of matching games!
Price: Free (Full version upgrade is $6.99)
Version reviewed: 1.4.0
Requires OS X 10.6.6 or later
Download size: 16.2 MB
Cradle of Rome on Mac App Store
Related Posts