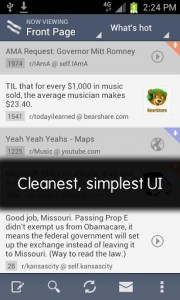 dotTech has covered Reddit clients in the past (e.g. Reddit is Fun), but none are quite as smooth as Bacon Reader For Reddit. Bacon Reader is quite the Reddit client. It's a refreshing take on Reddit clients for Android. Bacon Reader has a pretty slick design, and loads of features. It even comes with a tutorial on how to use the app.
What is it and what does it do
Main Functionality
When it comes down to it, Bacon Reader is a Reddit client. With this app you're able to view and manage your subreddit subscriptions, view your karma, and manage your direct messages. Bacon Reader will be able to handle every bit of your redditing needs.
Pros
Full user profile support
Color coded comment threads
Image macro support
Full screen mode
Tablet support
Easy Reddit navigation
Tutorials for new users
Full featured inbox
Compatible with Jellybean expandable notifications
Cons
Free version has advertisements (purchase Pro to remove ads)
Laggy
Terrible user interface
Discussion
I'm a pretty avid Reddit user; in fact, I use Reddit every single day. I use it to check messages that my friends have sent me, I use it to find out what is popular, and I use it to discuss various topics. Reddit is a wonderful tool, and is in essence "the front-page of the internet". Having a good Reddit client is very important to me, so I've seen quite a bit of them in the Play Store. All of the other Reddit clients in the Google Play store have been "meh", and Bacon Reader isn't really any exception to this rule. I felt as if it wasn't too compelling.
Bacon Reader is alright, but it's not as good as it could have been. It was a somewhat enjoyable experience — until I tried to load any sort of massive comment thread. As soon as I did that, the program locked up and basically crawled. On top of that, there's these really obnoxious advertisements. I've stated in Android reviews in the past that I'd gladly pay for your app instead of dealing with advertisements. However, I'm not a fan of the 'upgrade to pro feature'.  I'd rather this not even have a free version of the app, because the free app is horrifyingly bad.
The paid app is much better, and go figure. All gripes that I have aside, Bacon Reader is an 'ok' app to view Reddit with. Personally I use Reddit is Fun, because it's a better implementation of a client for Reddit, but also because it performs better for me. Bacon Reader isn't the worst app in the world, but it's not something that I'd personally use. I should also point out that my complaints for Bacon Reader For Reddit are subjective in nature. Obviously this app performs differently on different types of phones with different versions of Android.
Conclusion and download link
If you're in the market for a Reddit client, and you didn't care for Reddit is Fun, you might want to check out Bacon Reader For Reddit. It's an alright app, but it's not for me. It has some compelling features, and if you're willing to overlook some of the problems it has (because no app is perfect) you'll find yourself right at home. Otherwise, a better investment of your time would probably be to check out Reddit is Fun, reviewed by our very own Brendan. He has some compelling reasons as to why you may enjoy that app.
Price: Free
Version reviewed: 2.7.1
Requires: Android 2.0 and up
Download size: 5.8M
Bacon Reader For Reddit on Play Store
Related Posts