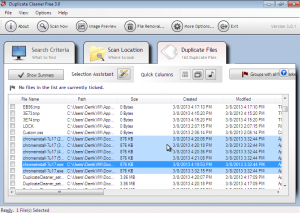 Maintenance is an important part of any Windows computer, so it's important that you find every little tool that you need. That's where Duplicate Cleaner comes in. Duplicate cleaner will help you free up space that in some cases you might not have known you could free up on your drives.
WHAT IS IT AND WHAT DOES IT DO
Main Functionality
Duplicate Cleaner is a utility for Windows that actively seeks out duplicate files on your system so that you can delete them. Duplicate Cleaner searches for various file types such as music files, image files, program files, log files, and even critical system files.
Pros
Has an 'Intelligent Selection Assistant'
Able to search both local and network lines
Export / Import results in CSV format
Fast scanning
Can search for music files on a massive scale
Audio tagging wizard
Image preview
Very comprehensive search results
Cons
Suffers from the issue inherent in all duplicate file finders — is not smart enough to understand when duplicate files exist by necessity (e.g. two programs have two copies of the same file, and both need their respective copies) as opposed to forgetfulness
Cannot select multiple files at once
Clumsy UI
Need to purchase Pro version for more features
Discussion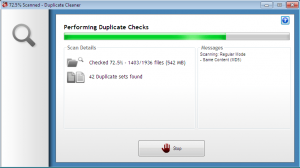 Maintenance is always an important part of using any sort of Windows machine. It's something that you can never neglect, and when you do, your file systems get muddled and sludgy and your hard drive fragments. That's why you can never get enough free tools that will help you tweak and clean your computer and file system.
Duplicate Cleaner is a special kind of program. It's not built in a new concept, but it's implemented pretty well. I had no trouble searching and quelling duplicate files. It was very fast, and I didn't have too much of a problem — until it got done scanning. That's where the core of my criticism arises from. There wasn't really an option to simply select all the files that had been scanned to remove them. There is a ton of file grouping options, music file sorting options and even image thumbnail sorting options. That's really pathetic in my book. That's the critical option that most people are searching for, and if it's not there, it's kind of a letdown.
All in all, Duplicate Cleaner is something I'm going to keep on my Windows partition for regular use. It's very handy when you have a ton of duplicate files you want to get rid of, but don't want to take the manual sorting route. The pro version of the program does have a lot more features but I haven't gotten around to trying it out. I wasn't too big a fan of the user interface, and the ui was a bit clumsy at times. Still, I think it's the type of program that user interface isn't the most important thing when it comes down to it. Duplicate Cleaner may quickly find its installer resting on my 'portable computer maintaining kit'.
CONCLUSION AND DOWNLOAD LINK
If you have a really messy file system, you might want to check out Duplicate Cleaner. It can quickly cleanse and delete duplicate files from your local and remote drives. It can really come in handy, and can drastically improve your file system by making your drive less fragmented (by removing duplicates). I recommend anyone that is in need of a duplicate file remover to check out Duplicate Cleaner. It might just be the best tool you've never heard of… just be sure to always ensure you aren't deleting files that you shouldn't be deleting.
Price: Free
Version reviewed: 3.0.1
Supported OS: Windows XP, Windows Vista, Windows 7, Windows 8
Download size: 3.9 MB
VirusTotal malware scan results: 0/40
Is it portable? No
Related Posts