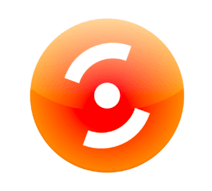 After it was announced earlier this month that Google would be discontinuing its Google Reader service, fans of Reader freaked out. A petition to save Reader has already reached over 100,00 signatures, but it is unclear whether Google will extend the life of the service based on fan outcry alone.
Now that we've all had time to process this news, many of us have moved from the "Denial" stage of tech grief and into the "Acceptance" phase. If Google Reader really will bite the dust come July 1, then we need to start looking for worthy successors now. We already have an open thread on Google Reader alternatives here, but we are still looking for more. One Mac App RSS reader that caught my eye today was Shrook.
What is it and what does it do
Main Functionality
Shrook is a Mac App that collects your RSS feeds in one single location for easy reading. In addition to RSS feeds, Shrook also lets users see feeds from Twitter.
Pros
Very tiny download
Shrook also includes basic Twitter support, for reading tweets alongside your feeds.
Offers a "feed guide" for first-time RSS users (or new users looking for additions to their existing RSS interests)
Status icons let you know at a glance whether a news item is new, unread, read, visited (meaning you visited the site where the story ran originally), or flagged for later viewing
Updated my feeds to their new, current addresses automatically
Unlike Google Reader, the 20 most recent items from a given feed stay available until "pushed out" by new content from the same feed
Cons
Interface seems very cramped and cluttered, especially if you follow a lot of feeds
Set up does take a little while, especially if you are importing the XML file info from Google Reader (loading icons for feeds takes a very long time!)
Lacks the equivalent of Google Reader's "mark all as read" button (you have to go into "Feed" from the menu bar, or use command+u, which is less elegant, and this only works for a single feed at a time, not all feeds)
No images in previews: you need to click on the article to see it with full images and text: a bummer for people who like a few images to break up walls of text
Discussion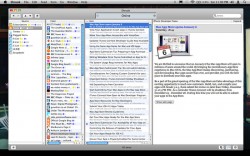 My Google Reader has been my best buddy for years now, and consequently my list of feeds is pretty huge. Rather than enter all of my RSS info manually, I used Google Takeout to make an XML archive of my Reader's content, and then uploaded that into Shrook (using File>Import OPML.)
While it did take several minutes to get all of this info updated on Shrook, it was worth the wait. After seeing a screenshot of this crowded, under-designed reader app, I was prepared to be pretty disappointed with Shrook overall.
Never judge a book by it's cover: Shrook's actually pretty decent. I really like that it doesn't get rid of content after a certain period of time, like Google Reader does. I can't tell you how many times I've left something unread from a rarely updated feed, only to have Reader delete it after several weeks have passed. In Shrook, the only way that happens is if the feed updates with 20 new items.
With TweetDeck also on the chopping block, another good reason to check out Shrook is for its Twitter feed reading capabilities. If you love both TweetDeck and Google Reader, this single app might just be able to replace both things for you.
Conclusion and download link
Shrook may not be the perfect replacement for Google Reader, but as a free option, it is definitely worth checking out. I'm still evaluating what service will replace Google Reader for me, and I might not make a final decision until June. I have a couple of other frontrunners, but I'm really enjoying Shrook so far, and it might just win out in the end.
Price: Free
Version reviewed: 2.87
Requires OS X 10.6.6 or later
Download size: 1.1 MB
Related Posts