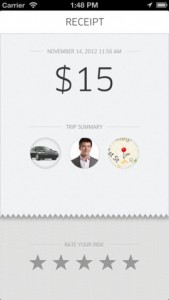 One of my all-time favorite Eddie Izzard bits comes from his classic "Dress to Kill" recording at San Francisco. He's talking with the audience about their fair city, and transitions to a bit about the fog to a bit about taxi cabs.
"[The fog] runs down the road, doesn't it? Faster than the [expletive] taxis…OF WHICH THERE ARE FIVE! I don't know what that's about!"
Sadly, they didn't have Uber back when Eddie Izzard filmed this appearance. Otherwise, he would have had better luck hailing a cab.
What is it and what does it do
Main Functionality
Uber lets users summon a private car to their current location. The app is only supported in some metropolitan areas.
Pros
Fares booked through Uber have tip included, no need to carry cash or calculate a tip
Uber fares are charged directly to the credit car you have on file.
You can get an estimate of how much your final fare will cost you before you even agree to get picked up: great for budgeting on the go
Extensive reviews and feedback about drivers
Slick, elegant, luxurious design throughout the app
Easy to feel safe: you can match the identity of your driver with the person who comes to pick you up based on their name, photo, and license plate number
Filling out your user profile is short, simple, and painless
Cons
The app is only supported in some metropolitan areas.
Would be nice to have the ability to arrange other forms of transport as well: a private car may always be your first choice, but in the event of a too-long wait for a private car, some people might search for a zip car, or other method of transport if they are really in a hurry. That being said, the app does let you pick your choice of taxi, black car, or SUV.
Discussion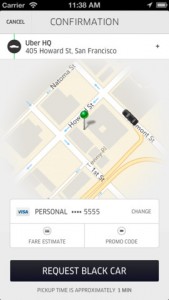 Uber lets you enter an address or drop a pin on the map based on your current GPS coordinates to let the driver know precisely where to pick you up. You will be kept apprised of how long they are expected to take to reach your coordinates. At the end of your ride, the fare is charged to your credit card on file, and you receive a detailed receipt in-app and via email.
The metropolitan area closest to me is Boston, and I was pleased to see that the map shows the current location and number of all Uber drivers. There were a good number for Boston and the surrounding areas, and there also appears to be decent international support for this app as well!
Uber's fares are charged directly to the credit car you have on file. In the city on business and left your wallet back at the hotel? You can still can still book a fare to get you back to your lodgings, even without having your physical card with you to pay with.
If you want to try the service at a discount, there are some simple ways you can do so. Firstly, after you download the app, just enter UBERCOOLTEN when prompted for a 'promo code.' I did this and got a $10 account credit, which I've been told has no expiration date and is valid for any car or city. Additionally, users can score more free rides by referring friends who quote your referral code upon registration.
Conclusion and download link
If you live or work in a big city, you deserve to travel in style. With an easy way to get a $10 account credit, why not take Uber for a spin? This service is simple to use, transparent, and more fun than trying to hail a cab the old-fashioned way.
Price: Free
Version reviewed: 2.2.2
Requires iPhone/iPad/iPod Touch, iOS version 4.3 or later
Download size: 13.7 MB
Related Posts