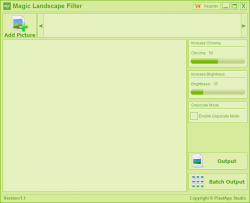 A few days ago dotTech reviewed PixelApp Magic Skin Filter, a program that aims to enhance photos of people. PixelApp has a similar program but this one enhances landscape photography — Magic Landscape Filter. Let's see if this is worth your time.
WHAT IS IT AND WHAT DOES IT DO
Main Functionality
PixelApp describes Magic Landscape Filter "a professional and easy to use reversal film simulation filter software that can make your landscape photo more colorful and more vividly".
Unless you are a photographer, you probably don't know what reversal film is — and you don't need to know either, because it isn't important for you to understand this program. Rather, focus on the latter half of the developer's description: Magic Landscape Filter makes your landscape photos more colorful and vivid. The selling point? It does it automatically.
Pros
Automatically applies enhancements to photos but you also have the option of manually modifying chroma, brightness, and use grayscale, if desired
Can enhance one photo at a time or multiple photos at a time (i.e. batch processing is supported)
Supports JPG/JPEG, PNG, GIF, and BMP formats

Note: The developer does not specify what image formats are supported. These four formats are ones that would load into Magic Landscape Filter for me. Other formats may or may not be supported.

Photos are enhanced in real-time, so you are shown a preview of what the photos will look if you output
Cons
Doesn't do anything special — enhances photos by applying chroma filter, modifing brightness, and optionally applying grayscale. You know, the stuff you can do in pretty much any image editor.
Is buggy — crashes every time I try to use the program
Has not been updated since 2009, so you are unlikely to receive updates in the near future
Discussion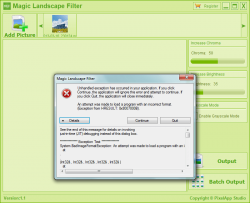 Like Magic Skin Filter, Magic Landscape Filter is very easy to use. Load photos you want to enhance (batch processing is supported), optionally customize chroma/bright and enable grayscale or allow the program to apply whatever settings it sees fit, and output the images. It is as simple as that. However, ease-of-use is meaningless if the program produces bad quality photos? So what is output quality? I don't know… because the program is buggy.
For those that read our review of Magic Skin Filter, you know we were not very impressed by the program due to how to made outputs look "fake". When I first came across Magic Landscape Filter and looked at the examples provided by  the developer, I was actually impressed. Unlike Magic Skin Filter, Magic Landscape Filter does, in my opinion, enhance the look of photos — or at least the ones shown as examples by the developer. The only problem? I was unable to test Magic Landscape Filter on my own photos because Magic Landscape Filter produces an error every time I load a photo into the program.
When prompted with the error, I can either close Magic Landscape Filter or attempt to continue the program. Attempting to continue the program simply freezes it, so I have no option but to close. I'm not sure if this is happening on my computer only or happens on the computer of others too, but this error appeared without fail every time I loaded a photo. I could not even use Magic Landscape Filter on one photo.
The worst part? Magic Landscape Filter has not been updated since April 2009 so there likely won't be an update in the near future to fix this bug, essentially making this a dead program.
CONCLUSION AND DOWNLOAD LINK
I was very excited to test Magic Landscape Filter and see if it actually does work as shown in the examples provided by the developer's website, because in those examples Magic Landscape Filter does indeed enhance the look of landscape photos. And the support of batch processing coupled with a relatively low price would make this a win program, even though the program appears to only apply basic filters. Unfortunately, Magic Landscape Filter is buggy and doesn't work. At all. Stay away from this one, folks. You are better off checking out a freeware image editor to enhance your photos.
Price: $19.95
Version reviewed: 1.1

Supported OS: Windows

Download size: 1.1 MB
VirusTotal malware scan results: 0/45
Is it portable? No

Magic Landscape Filter homepage
Related Posts