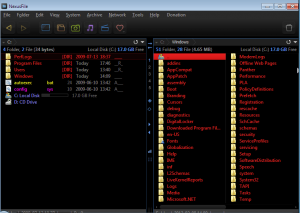 It's no secret that no matter the iteration, Windows Explorer file manager is limited in advanced features. dotTech has covered several file managers in the past including a review on best free file manager for Windows; however, NexusFile is a sophisticated file manager replacement that deserves a minute in the spotlight.
WHAT IS IT AND WHAT DOES IT DO
Main Functionality
As stated above, NexusFile is a file manager and can be used in place of Windows Explorer. It is not a full shell replacement (i.e. does not explicitly replace Windows Explorer but rather runs alongside Windows Explorer).
Pros
Dual panel support
Supports tabs
Native archive extraction support (ZIP, RAR, ARJ, ACE, ALZ)
Native ZIP compression (creation) support
Integrated FTP client
Skinnable plus full color customization
Is portable
Cons
Default skin and font are horrendous
Native archive support does not include other common file types like 7Z, ISO, TAR.GZ, and JAR files
Discussion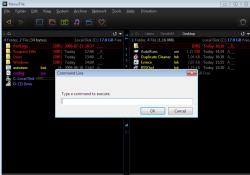 I've never been a fan of Window Explorer, so it's not that far of a stretch for me to try to replace the default file manager. Explorer has been the bane of my existence for as long as I've used Windows, and I've always wanted more out of a file manager. NexusFile is a great alternative and has a ton of compelling features too. It reminds me of the file managers I'm content with using on Linux, so that's a real plus., and I'm thoroughly impressed with it.
NexusFile isn't the first file manager to be reviewed on the site, but by no means should you pass it over. You can do a ton with NexusFile, and the features are really impressive. I really like the native archive support, but I was a little bummed that there wasn't any .7z, tar.gz, or .jar support. According to the developer's site .7z .ISO and other formats will be supported in the future.
Along with the native archive support, it was really nice to see the native FTP support. It's an essential feature, one that can make or break a file manager for me. All of my file manager choices on Linux do it with no problem, so it's nice to see NexusFile with this feature. I was also pretty happy to see the customization and the dual panel features, something that I think should be essential within all file managers.
Being that I'm an almost full time Linux user, and I only use Windows for select things. I don't think I'd necessarily take the time to replace explorer fully, but since NexusFile is portable, I'll probably end up setting it on a USB stick for my Windows toolkit. It has too many features too miss out on.
CONCLUSION AND DOWNLOAD LINK
If you're not satisfied with the default file manager on Windows and don't like the options we present in dotTech's review on best free file manager for Windows, you really should give NexusFile some consideration. It has a ton of compelling features, and it's very versatile. I've really considered replacing Windows Explorer completely but sadly NexusFile isn't a full shell replacement. However, NexusFile is a great file manager, and one I feel comfortable recommending to whoever needs or wants it.
Price: Free
Version reviewed: 5.3.3.5532
Supported OS: Windows XP, Windows Vista, Windows 7, Windows 8
Download size: 3.2 MB
VirusTotal malware scan results: 0/45
Is it portable? Yes
Related Posts