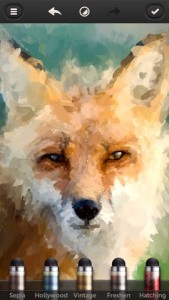 Depending on how you look at things, the presence of a smartphone camera in everyone's pocket these days is either a great thing for photography, or a terrible thing. I'm in the former camp: it's great that people feel more empowered to take creative pictures and embrace that artistic side of themselves. But on the other hand, many people think that just taking pictures from a wonky angle or adding a filter will make their photos instantly turn into "art." If you're an iPhone camera junkie who's grown tired of just slapping filters on your snapshots, it might be time to try a more artistic approach, with Repix.
What is it and what does it do
Main Functionality
Repix is an iOS app that lets you take photographs and manipulate them with various brushes, creating a watercolor-like, somewhat Impressionist-looking work of art.
Pros
App is intuitive and simple to use (perfect for photo fiends who hate complicated photo editing software)
Share your Repix creations with friends on Facebook, Tumblr, Twitter and Instagram
Makes you feel like a real artist more than apps where you slap a filter on your photos
Pinch the screen to zoom in and do some detail work
Controls for undo and redo are simple to use
More than just brushes: you can adjust contrast, vignetting, brightness, saturation and more in your works of art
Cons
Free app only comes with a limited number of brushes: purchasing the full set of brushes will cost $4.99 (smaller amounts of brushes can be purchased in sets of four for $1.99). You can test all of the brushes for sale before buying them.
Can sometimes be difficult to make small changes to a piece: tapping motions don't translate as well as dragging motions
Discussion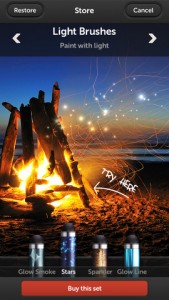 Repix is a fun way to "remix" your existing photo library. You just pick a picture, select an effect brush, and drag your finger over the image to apply. You can use four basic color brushes to create your masterpiece, or invest in additional brushes to really take your work of art to the next level.
The four main tools you are given to start with are Charcoal, Cartoonize, Edger, and Dotter. The Dotter tool gives you a kind of comic book-style look, with fat "ink" dots, while Charcoal lets you create blurred lines. With repeated applications, the Edger creates a sort of grizzled, pebbled appearance, and the Cartoonize tool makes colors pop while smudging the image, almost like there was Vaseline on the lens.
The other brush packs you can buy are Color (which lets you make images look Vintage/Sepia-toned), Artistic (with brushes that make Van Gogh and spraypaint-style brushstrokes), and Light Brushes (which create sparklers, glowing lines, and clusters of stars.) If you don't want to spring for the whole set of brushes, definitely get the Light brushes: they are perfect for drawing on night-time shots, party photos, or selfies.
Conclusion and download link
If you want to feel like you actually had a role to play in making your digital photography look cool, stop messing around with apps that are all about filters, and actually get your hands dirty…well, so to speak. This app is simple to use, and has a great array of tools that can make your special photos look truly magical.
Price: Free
Version reviewed: 1.0.4
Requires iPhone/iPad/iPod Touch, iOS version 6.0 or later
Download size: 25.3 MB
Related Posts