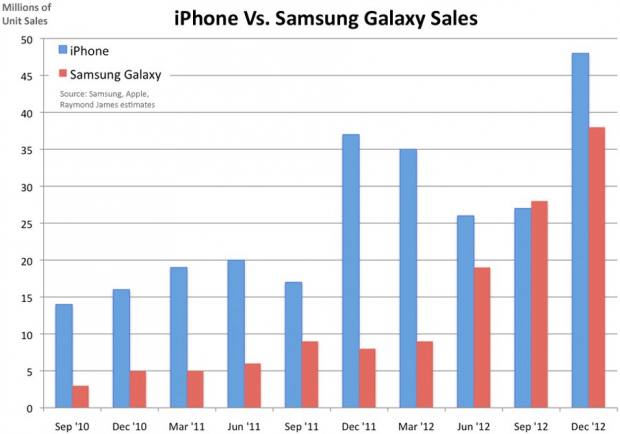 There is no doubt Samsung's Galaxy line of Android smartphones — Galaxy S, Galaxy S II, Galaxy Note, Galaxy S III, Galaxy Note II — are extremely popular. In fact, they are the most popular Android smartphones in the history of Android. However, as popular as Galaxy devices are, iPhone is more popular.
A graph, shown above, put together by Raymond James analyst Tavis McCourt shows how iPhone has been outselling Galaxy devices since 2010, which is when Samsung debuted the Galaxy brand of Android smartphones.
Since September 2010, Samsung Galaxy devices have only outsold iPhone in one quarter, September 2012, which is largely attributed to people waiting to purchase iPhone 5. However, despite iPhone's historical advantage over Samsung Galaxy, McCourt — and many other people — predicts Galaxy S4, the latest flagship device Samsung just debuted, will help reverse this trend. In other words, McCourt believes Galaxy S4 will outshine and outsell iPhone 5 next quarter (Q2 2013). As proof, McCourt points to how Galaxy sales have been steadily increasing over time and decreasing the gap between itself and the iPhone.
Will Galaxy S4 outsell iPhone 5? I have no doubt that it will indeed simply because iPhone 5 has been out for over six months now (which is ages in the smartphone world) while Galaxy S4 is new, regardless of the fact that Galaxy S4 offers many features not found in iPhone 5. The real challenge for Galaxy S4 will be when Apple debuts the next iPhone, iPhone 5S or iPhone 6 or whatever Apple decides to call it.
Will Galaxy S4 shine in the face of renewed competition by Apple? Or will Apple's next iPhone fall flat on its face due to lack of innovation and let Galaxy S4 steal the show? Only time will tell. Personally speaking, I hope Apple actually innovates with the next iPhone, because more competition is always better for us consumers.
[via BusinessInsider]
Related Posts