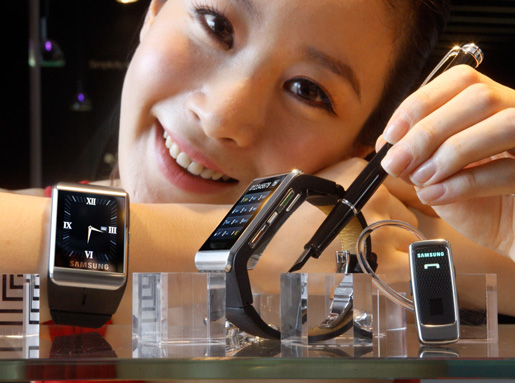 While we're probably not going to get any official confirmation from Apple about their smart watch project until they actually announce it, Samsung isn't shy about commenting on their future plans with wearable tech.  According to a report by Bloomberg, the company's mobile executive VP Lee Young Hee had this to say about the watch:
"We've been preparing the watch product for so long. We are working very hard to get ready for it. We are preparing products for the future, and the watch is definitely one of them."
That's probably the most direct thing you'll hear from Samsung regarding the smart watch other than just announcing the actual device. Besides confirming that they are working on such a device, Hee also comments on Samsung's desire to beat Apple to the market:
"The issue here is who will first commercialize it so consumers can use it meaningfully."
If you're wondering what that device is in the image above, it's actually a watch/phone that Samsung showed off back in 2009. Whether we'll see something similar to it or completely different remains to be seen but what we do know now is that there's a very good chance that we'll see Samsung's smart watch make an appearance before Apple's.
Related Posts