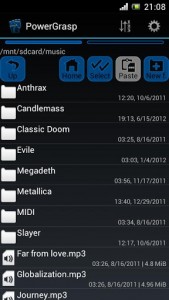 Ever download an archive file to your Android phone and need to extract it? PowerGrasp is a great tool you can use to solve the problem. PowerGrasp is a fully functional, intuitive archive extraction/creation app. The app makes easy work of most archive files. This app might not be the most advanced archive app on the block, but it's a serious contender where it counts.
What is it and what does it do
Main Functionality
PowerGrasp is an archive extraction and creation app for Android. It can extract most mainstream archive file types. It also has a basic file manager that allows you to view your extracted files and create new archive files.
Pros
Can extract ZIP, RAR, 7z, tar, and tar.gz archives
Allows for the creating new and editing existing ZIP, 7z, tar, and tar.gz archives

Note that RAR archives cannot be edited or created — only extracted. This is because RAR is a closed format, which is not a fault of PowerGrasp.

Has a built-in file manager with basic copy/paste/delete/select functions and dual panels
App's website has a bug report function, to help report issues you find with the app
Cons
Does not handle any other archive file type outside of ZIP, RAR, 7z, tar, and tar.gz
Does not support password protected/encrypted archives
Hideous user interface
File manager does not have very many advanced features (see dotTech's review on best free file manager for Android for a better file manager)
Discussion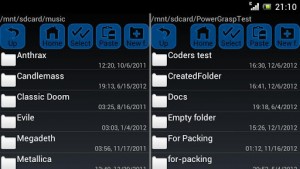 I must confess, I do a ton of downloading on my Android devices. Almost every day, and without fail, someone uploads a torrent file that is not a folder, but a file archive. I've looked pretty hard through the Play Store to find a satisfactory file extraction app, and I discovered PowerGrasp.
PowerGrasp is a very basic app. It does not handle all archive file types, but it does handle the ones that matter the most. I was suprised to see that PowerGrasp even has support for .tar and tar.gz files. A pleasant surprise seeing as how most file extraction programs just support .zip, .7z, and .rar.
PowerGrasp, though very basic, has some very intuitive features that I've come to appreciate. The file manager, though lacking any advanced functions, has most of the basics covered. It was able to extract most of the files that I threw at it, but not all of them. I don't think the developer has any plans to support any more file types and it's a shame, because if PowerGrasp supported more file types I might be a little more inclined to switch from ZArchiver.
PowerGrasp isn't amazing, and besides the fact that it doesn't support more than 5 archive types, I also had more critiques. For one thing, the user interface theme is horrid. It's quite possibly the ugliest color scheme I've yet to come across. I also wish that the file manager had some more advanced functions (like batch extraction).
I don't think I'll be switching from ZArchiver any time soon, it has everything I need, and I'm the type of guy that likes to have all the bases covered. PowerGrasp is perfect if you're just looking to get the basic archives taken care of and you're not really interested in all the frills that the other apps might come with. PowerGrasp is one of those apps that I'll continue to keep an eye on, and maybe in the future it will far exceed my own expectations as to what a file archiving app should be. When that time comes I'll be more than happy to re-install PowerGrasp to give it another go.
Conclusion and download link
If you're the type of person that wants basic archive management without necessarily something with a lot of frills, then you need to take PowerGrasp on a test drive. However, if you want anything beyond the basics — such as support for more archives and password protected or encrypted archives — then skip PowerGrasp and look at ZArchiver.
Price: Free
Version reviewed: 2.4.0
Requires: 2.2 and up
Download size: 1.6 MB
Related Posts