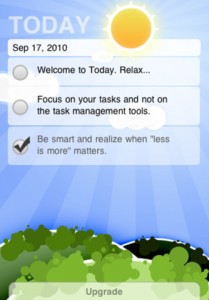 Getting organized and staying organized in this day and age comes down to having the right tools. If you are still looking for the right tools to organize your daily to-do lists, you're never going to feel like you've really got a handle on your day. Why no try to get organized with Today To-Do Basic: Clever Task Management?
What is it and what does it do
Main Functionality
Today To-Do Basic: Clever Task Management easily manages your tasks for today, and today only! The focus here is on intuitive controls: there are extra buttons or complex series of taps to memorize. To add a simple todo, you just turn your phone 90 degrees.
Pros
Smart tutorial that introduces you to app controls with a sample task list
Cute design
Simple swipe controls make using the app feel effortless and elegant
Easily move your unfinished past todos to the main screen with a simple touch
Cons
The Pro version of the app has better features not in the Basic (free) version, including encrypted backups, "Tomorrow" view, and group tasks
Today To-Do Basic is focused on dealing just with today: if you are the type of person that likes to plan ahead, this is not the productivity tool for you
Discussion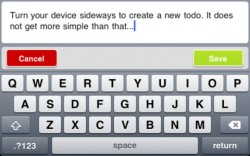 The big selling point of Today To-Do Basic: Clever Task Management is how easy the developers claim their navigation is. And happily, their claims are true. Setting up your to-do items each day is really simple, with controls that just plain make sense. Tap the circle next to the item to check it off (or to uncheck a previously checked item you want to resurrect.)
To delete an entry entirely, just swipe to one side over the item.If you want to add a new item, just turn your iPhone on its side. Need to edit an entry? Double-tap, and start typing. Want to access your to-dos from yesterday? Place your fingertip on the sun and slide it over. Honestly, even though I've just explained the controls, you could figure them all out on your own: it's just so intuitive.
There are some downsides, despite the good control structure. For one thing, this basic version of the app is focused just on today, while the Pro version focuses on both Today and Tomorrow. One the one hand, Today To-Do Basic is great because it forces you to focus on just what is on your plate that day. On the other hand, it basically means that you always need to use this app in conjunction with another app or calendar, in order to keep tabs on your commitments in the weeks and months ahead.
Conclusion and download link
For those who live in the moment, Today To-Do Basic: Clever Task Management is the perfect choice. But if you're more of a long-term planner, this app likely won't jive with your personal task management style.
Price: Free
Version reviewed: 1.3.2
Requires iPhone/iPad/iPod Touch, iOS version 3.2
Download size: 1.4 MB
Today To-Do Basic: Clever Task Management on Apple App Store
Related Posts