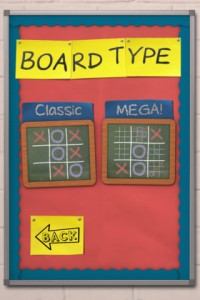 There isn't a schoolkid on the planet who hasn't scribbled out a few games of Tic Tac Toe when they were supposed to be paying attention in class. It may not have the prestige of chess, but Tic Tac Toe is the game that teaches most kids about strategy for the first time. For adults, it's a great time waster: it's simple, fast-paced, and packed with nostalgia. If you have fond memories of drawing out Tic Tac Toe grids with sidewalk chalk as a kid, check out a new twist on the classic formula: MEGA Tic Tac Toe, developed by Clever Fox.
What is it and what does it do
Main Functionality
MEGA Tic Tac Toe is a socialized version of the classic kid's game.
Pros
Leaderboards and achievements to incentivize gameplay
Responsive controls
Three different levels of AI for single player mode
Play solo or with a friend (using pass and play or Bluetooth to connect with others)
Features MEGA Tic Tac Toe: a game where each victory places you closer to a bigger victory
Cons
Hasn't been updated since its initial release in 2011
Would be cool to have a mega-Mega Tic Tac Toe board with a larger grid to increase the difficulty
Discussion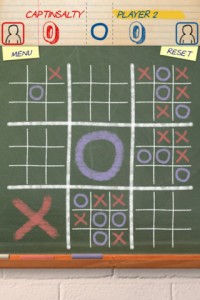 MEGA Tic Tac Toe has plenty of the things you'd expect in a Tic Tac Toe game. You can play alone against the computer, which lets you experience 3 different levels of difficulty. There's Easy Eric, Medium Mary, and Hard Harry (a naming convention that's bound to inspire more than a few juvenile snickers.) But as fun as this part of the app is, the real fun comes in Mega mode.
Picture this: a tic tac toe grid where each grid has its own game. Win a game in one of these smaller boards, and you claim that entire section of the grid for your color. If a micro-game of Tic Tac Toe comes to a draw, all claims on the board are wiped clean. It's a simple improvement on the classic game, but one that makes it even more engrossing, challenging, and exasperating.
There are some minor issues with this fun game. For one thing, the "forfeit" option doesn't seem to work in multiplayer mode. For another thing, you have to select the type of game (classic or mega) you want to play in multiplayer mode before searching for an opponent.
Also, I really wish there was some way to chat with the other player in multiplayer mode. This would improve the game by making it more social (and giving players a forum for some trash talking if they couldn't talk out loud.)
Conclusion and download link
If you like Tic Tac Toe, you'll love MEGA Tic Tac Toe, despite some minor limitations. The MEGA version takes a classic game to a whole new level, and it's tons of fun. Sometimes the simplest games are the best, you know?
Price: Free
Version reviewed: 1.0
Requires iPhone/iPad/iPod Touch, iOS version 4.0 or later
Download size: 18.8 MB
MEGA Tic Tac Toe on Apple App Store
Related Posts