Nowadays there are plenty of ways to take and store notes. For example, there is the ever popular Evernote and the recently released Google Keep. However, if you are unhappy with note-taking services that are based in the cloud and prefer an offline solution, AllMyNotes Organizer may be what you are looking for. Let's see if it is worth your time.
WHAT IS IT AND WHAT DOES IT DO
Main Functionality
AllMyNotes Organizer is a note-taking program that can be used for various purposes, such as for taking notes in class, recording your thoughts, as a diary, writing books, organizing notes, etc.

Take note AllMyNotes Organizer has AllMyNotes Organizer Free Edition (free version) and AllMyNotes Organizer Deluxe Edition (paid version). The differences between the two can be found in the chart to the right. This review specifically looked at AllMyNotes Organizer Deluxe Edition.
Pros
Supports rich-text notes — bold, italics, underline, font type, font size, right/center/left aligned, color, background color, bullets, numbered lists, hyperlinks, and checkboxes
Supports images in notes (JPG/JPEG, PNG, GIF, and BMP)
Allows users to insert tables into notes
Notes can have files attached to them and can have alarms/reminders
Has an easy way to insert date and timestamp in notes
Has a built-in spell checker
Has powerful built-in search, search that can look inside a specific note or through all notes
Notes are organized in a hierarchical tree format with folder and subfolders

Folders/notes in tree can be customized by icon and color

Notes and/or folders can be marked as "completed"
Deleted notes/folders are sent to the program's Recycle Bin, allowing you to easily recover them if you accidentally delete. Notes/folders deleted from Recycle Bin are permanently deleted.
Can create a new note with text/images copied (i.e. create a new note with content from Windows Clipboard)
Notes are auto saved every X minutes (3 minutes by default — you can change this from settings), ensuring minimal data loss if the program or your computer crash
Can have multiple databases, if you want to keep your notes separate for different tasks or if more than one person wants to use this program
Each database can be password protected
Databases are automatically backed up
Can print notes, with support for print preview
Supports undo/redo and copy/paste
Has multiple different program skins to pick from
Can import notes from RTF, TXT, HTML, CSV, KNT, and ENEX files
Can export notes to RTF, HTM/HTML, and TXT
Has a built-in password generator
Is portable
Cons
Cannot tag notes
Would be nice to have tabs and multiple panes
Buttons for inserting hyperlinks and checkboxes are not on the formatting toolbar for notes; you have to right-click to access them. I'm not sure why the developer didn't add buttons for them but I'd imagine these are commonly used functions that most people would appreciate having alongside all the other formatting buttons.
Needs hotkey support for creating new note from Windows Clipboard content
Automatic backups of notes database(s) are stored in the same folder as the database itself (i.e. in Documents\AllMyNotes), which is really stupid and defeats the purpose of backups in the first place. You can manually change where backups are stored via Options.
Sets itself to automatically start at Windows startup. Most people probably don't want a note-taking program to always be on; most people probably only want it to be on when they need it. Thankfully, you can disable this behavior from Options.
All skins are fairly ugly
$34 is a bit high price in the day and age of free note-taking programs. $20 would be a much better price.
Discussion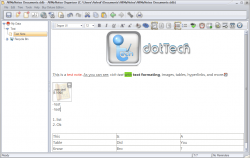 AllMyNotes Organizer describes itself as "the best tool for everyday use – diary, project-management, scheduler, address-management, storing access codes, and so much more". However, essentially AllMyNotes Organizer is a note-taking app. It is a feature-filled note-taking app, but is a note-taking app nonetheless. Granted, it may not sound very good on paper but when you start to use the program, you will probably agree with me: it is one of the better note-taking programs out there.
Indeed, AllMyNotes Organizer has pretty much all the features desired in a note-taking app plus is extremely easy to use (see 'Pros' list above). All these features allow users to use AllMyNotes Organizer for more than just taking notes. For example, the ability to insert checkboxes (for use alongside lists) in notes and the ability to use alarms/reminders allow AllMyNotes Organizer to double as a to-do list. Or you can potentially use AllMyNotes Organizer as a way to keep track of your contacts and use the alarm feature to remind of you birthdays. Or you can use AllMyNotes Organizer to create lists. Or you can use AllMyNotes Organizer to save sensitive data (since it can be password protected). Or you can simply use AllMyNotes Organizer for taking notes. Whatever the need, if it involves some aspect of text, images, and tables, then AllMyNotes Organizer can probably do it.
The only major feature I find to be missing in AllMyNotes Organizer is the ability to tag notes, but, as per my experience (this is my second time reviewing AllMyNotes Organizer), the developer is very receptive to feedback and will probably add the ability to tag notes when someone points it out to him.
That said, the biggest issue I have with AllMyNotes Organizer is price. The Deluxe Edition costs $34, which is quite a large ask if you consider the fact that there are so many free note-taking services out there, such as Evernote. Granted, there is Free Edition which costs $0 and Deluxe Edition is often on sale (e.g. it is on sale for $24 at the time of this writing). However, I do feel $20 is a much better price for a program that has tons of alternatives.
CONCLUSION AND DOWNLOAD LINK
AllMyNotes Organizer is one of the better note-taking programs I have used. That doesn't mean it is perfect; it isn't perfect, such as the lack of tagging. However, I feel confident in recommending this program to anyone that wants or needs an offline note-taking program. Of course, as I just mentioned, I feel at $34 Deluxe Edition is overpriced but it is often on sale plus there is Free Edition for those that don't want to pay for Deluxe.
If you are looking for freeware note-taking solutions, as I have mentioned many times there is AllMyNotes Organizer Free Edition which you can try. If you don't like that, you can check out CintaNotes, FreeText, or NoteClip. There are also many free cloud-based note-taking services with Evernote and Google Keep coming to mind.
Price: $34

Version reviewed: 2.70 (Build 546)

Supported OS: Windows 2000 and higher

Download size: 4.5 MB

VirusTotal malware scan results: 0/46

Is it portable? Yes
Related Posts