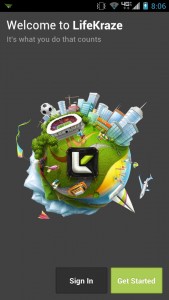 Social networks are a dime a dozen, especially in the mobile world. More and more apps like Path, Viddy, Instagram and EveryMe are cropping up every day. LifeKraze is a similar social networking app designed to help you share your accomplishments with the world. It uses a gamification system to reward you points and achievements for things you do in life, which can then be redeemed for exclusive rewards.
What is it and what does it do
Main Functionality
LifeKraze is just like any other social networking app, or social network for that matter. You post thoughts, accomplishments, images and more publicly, and others who use the network are free to interact with you. The main difference with LifeKraze is that you're rewarded for the things you post. Unlike other social networks, LifeKraze is designed to get you out into the world, doing things. Where Facebook would have you sitting at your computer all day playing games and sharing content, LifeKraze would have you winning an Olympic gold medal, graduating from college or starting a business.
Pros
Unique social network
Post accomplishments or thoughts

Much more satisfying than posting to other social networks

Upload images
Comprehensive stat tracking in daily and weekly increments
Earn points for accomplishments, and to share with the community
Very active community and everyone is enthusiastic
You can search for existing Google, Facebook and Twitter contacts
Very responsive user interface
Mobile and email notifications
Cons
Rewards are just product and service discounts (you will need to spend money in order to use them)

There are a lot of iPhone accessories in the rewards section, which doesn't do an Android owner much good

Better filters would be nice, to filter out the main news feed
Main theme and colors are kind of bland (shades of green, white and grey)
Email notifications can be excessive (luckily they can be disabled)
Discussion
One thing that should be mentioned right from the beginning, is that you can also use LifeKraze in a desktop web browser. This is pretty much standard fanfare for all social media networks out there. There are some platforms that only offer mobile access, but luckily LifeKraze doesn't implement such restrictions. For the purpose of this review, I will only be talking about features available on the Android app (there is also an iOS version).
It's difficult to judge a social network like this accurately over such a short period of time, so you can expect me to add a comment or two later about my prolonged experience with it.
With the app, you publish life accomplishments and completed tasks in 160 character posts. Your personal achievements can be anything from cooking your first dinner, to losing 200 pounds or running a 50 mile marathon. Essentially, if you can do it, then you can post it.
Once an achievement is published, other folks that use the network can come along and reward you points, high fives and comments- usually offered with a positive attitude. The points you earn can then be redeemed for different product discounts.
Every day, you are allotted a certain number of points to give away to others in the community. You can dole them out however you see fit. Each time another user posts an accomplishment, you can grant them points. The points can be offered in increments of ten, or 10, 20, 30, 40… and so on.
When posting to the network you are given two options, you can either post about an accomplishment, or you can post a thought. Think of the "thoughts" as more of a Facebook or Twitter musing, while an "accomplishment" describes something you actually did.
I will admit some of the posts that show up in the news feed can be a little odd, but a lot of them are also incredibly encouraging, and downright heart-warming. For example, I saw a post from someone who was completing their last treatment of chemotherapy. Furthermore, tons of people had already high fived, rewarded and commented the individual on that post.
The rewards aren't the real incentive here. Sure, some of the discounts are for pretty cool stuff, but unlike Shopkick, you are not rewarded any physical items like gift cards. Instead, the rewards offered allow you various discounts on products and services- its best described as a premium version of Groupon.
The real reason to keep coming back is the social network itself, and the community involved with it. It's rare that you find something so genuinely positive. Within minutes of posting an achievement, you'll be 'high fived' and rewarded for it by tons of people. I was totally amazed with how active the community actually is. I earned points almost immediately after posting my first accomplishment, which was nothing more than a celebration of my new apartment that I will be moving into less than a week from now.
As always, you can link up your other social media accounts with your LifeKraze account. In fact, you can even use your Facebook or Twitter account to sign in to LifeKraze for the first time, or you can create a new account altogether. I chose the latter option, but I did link up my other social network accounts later.
There's a lot more about LifeKraze that's worth checking out, but hopefully you get the gist of it by now.
Conclusion and download link
Since the app is nothing more than a companion for a social media network, it's difficult to truly assess its worth at this point. The real issue here is whether or not I will continue using the network. Speaking from a personal standpoint, I believe that I will continue to use LifeKraze, but that means nothing to anyone else reading this review. If you're the kind of person that loves using social media, but haven't quite found a platform that makes you feel good about what you're sharing- LifeKraze may very well be for you. Better yet, it rewards you for the accomplishments, achievements and challenges you overcome in your life- big or small. On the other hand, if you're the type of person that loathes social media then LifeKraze isn't going to offer you anything that will change your mind.
Price: Free
Version reviewed: 1.0.7
Requires: 2.2 and up
Download size: 11MB
Related Posts