Having the utmost privacy on your Windows machine is a must. Heidi's Eraser helps you keep your files private by ensuring they are permanently and securely deleted. With this program you'll have peace of mind knowing that your personal data can't be snooped and recovered once you have deleted it.
WHAT IS IT AND WHAT DOES IT DO
Main Functionality
Eraser allows you to securely delete files and folders (so files/folders cannot be recovered), and provides the ability writing over free space to securely clean previously deleted files.
Pros
Allows you to securely erase files and folders and wipe free hard drive space
Tons of secure erasing methods are supported, allowing you to pick whichever you want to use:

Gutman (35 pass)
US DoD 5220.22-M (7 pass)
RCMP TSSIT OPS-II (7 pass)
Schneier (7 pass)
German VSITR (7 pass)
US DoD 5220.22-M (3 pass)
British HMG ISS (3 pass)
US Air Force 5020 (3 pass)
US Army AR380-19 (3 pass)
Russian GOST P50739-95 (2 pass)
British HMG ISS (1 pass)
Pseudorandom Data (1 pass)
Fast/last 16KB Erasure

Has a built-in task scheduler that allows you to schedule secure deletion to automatically occur as a specified date/time. Tash scheduler even allows reoccurring events and events that happen upon computer reboot.
Works well, works fast, and has a no-frills interface without being ugly
Adds entry in right-click context menu for easy access
Can unlock locked files to be erased
Has a "plausble deniability" feature that allows you to rewrite erased files with other files
Cons
Options can be confusing to users without much technical knowledge. If you are confused, simply leave the program at default settings.
Adds itself to Windows Startup. There is no reason for a secure erasing tool to be always running, so why Eraser adds itself to always start automatically on Windows boot is beyond me. It should only automatically run when it has a scheduled task to do.
Hasn't been updated in almost a year, so development might have stalled
Discussion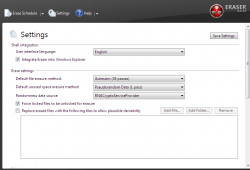 Privacy is and should be a major concern for anyone that uses any type of operating system. It does not matter what platform you're on, you should always be concerned with where your data goes, and if it is protected. Eraser can help you with a bit of that problem. Eraser can easily write over the free space on your computer (where a file has recently been deleted) to make it so that you can no longer recover the files you deleted. It can also do something similar to the directories that Windows sends 'recycled files' to.
You see when you delete something, you don't really delete it. You just remove the reference of it on the system. The file is eventually overwritten, and can not always be recovered. Unless you're a wizard (or have downloaded Recuva and gotten lucky). Eraser has tons of erasing methods. Some are more advanced than others.
My favorite feature that Eraser has to offer up is the scheduler. I love that it's built right in. I like that I can easily set up an erasing task and forget about it. I'm big on privacy on my machines but sometimes I have such a busy schedule that sometimes I don't even have time to pay attention to stuff like this.
It is worth noting that a new user may or may not be able to pick up on something like this. Some of the options are a bit confusing, but with a bit of googling and reading documentation most new users will be fine. The user interface  is very fluid and I enjoy that fact. I like how everything is so well put together. Eraser is a great program.
I've used Eraser for a while now and it's always been my tool of choice for the matter. There may be other programs that are similar to Eraser, but I just feel the most at home with Eraser. This is a very well put together program, and a program that I can not stop talking about. The fact that the only real problem I have with Eraser is the fact that it may or may not be confusing to new users is saying something.
CONCLUSION AND DOWNLOAD LINK
If you're concerned about your privacy and you're a Windows user, you really need to download Eraser. It's one of the best programs in its category, and one that I use almost daily. Eraser is one of my all time favorite programs for Windows. I really cannot recommend it enough. In my opinion, it is, without a doubt, the best free secure erasing tool out there for Windows.
Price: Free
Version reviewed: 6.0.10.2620
Supported OS: Windows XP and higher
Note: Windows 8 is not officially supported yet, but it is reported it still works on Windows 8 if run in compatibility mode
Download size: 8.7 MB
VirusTotal malware scan results: 0/45
Is it portable? No
Related Posts