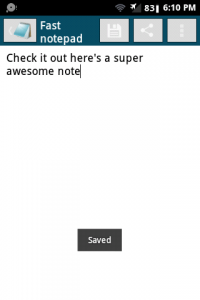 No matter where you are, sometimes you just need to write something down. Fast Notepad is an extremely simple notepad app that helps you do just that. You can create and edit text files with extreme ease right on your Android device. This app even has an option that lets you use encryption in your notes.
What is it and what does it do
Main Functionality
Fast Notepad is a simple and fast text editor for the Android platform.
Pros
Extremely simple and straightforward user interface; does what it says with zero bloat
Saves notes in TXT files, meaning you can open notes in other apps that support TXT files or on your computer
Optional encryption capability, either on a per-note basis or to automatically encrypt all new notes
Can sort notes into folders
No advertisements
Fast
Cons
May be too simple for some; for example, can only create text notes — no images allowed
When changing where TXT files are stored on internal storage or SD card, you have to type in the path of the location you want to store them in. This is very annoying. It would be much better if the app was able to browse to the location.
Discussion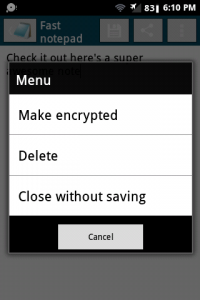 I'm a huge Evernote fan.  I absolutely love how I can write something extensive down on any device and have it synced to all. I love the simplicity and everything that comes with it. I use it for a lot of the writing I do, and its vastly changed the way I take notes. I'm really not the market for this kind of app, but there are obviously some people that are looking for something like this exclusively. Some people want a simple note taking app, and I think Fast Notepad is probably one of the best tools for that kind of job.
Fast Notepad is pretty straightforward app. You can take notes with it. That's all it does, though it can has an option to encrypt. Which is interesting to say the least. The developer brags about the lack of advertisements (something that I greatly appreciate). I wish that the developer had a donate option because I'd be more than willing to give him a little money for this superb app.
Since there isn't a massive list of features that I can dissect here, I'd like to at least admire the app for being so simple and straightforward. I might not use it for every little thing (like Evernote), but I'll certainly keep it around if I'm making something as simple as a grocery list.
The one major complaint I have with this app is the pathetic way I have to type the folder path within the app when modifying where TXT files are stored on internal storage/SD card. Now, this is not a deal-breaker by any means because a) most people probably won't even mess with the feature and b) you only need to do it once. It's more of an annoyance than anything, but it should be a little more simplified.
Conclusion and download link
Fast Notepad is extremely lightweight and does just what you want it to do. This isn't something that I'm going to be using for everything, but I'm going to keep it installed. Fast Notepad is something that comes in handy when it comes to simple note taking. If you're not interested in full-feature note taking apps, Fast Notepad might be your cup of tea.
Price: Free
Version reviewed: 1.4.4
Requires: 1.6 and up
Download size: 351 KB
Related Posts