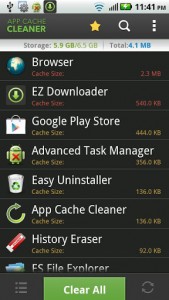 Sometimes you just want an app to do what it says. App Cache Cleaner is one such app. It's not a full fledged cleaning device cleaning program complete with advanced functions. It does not require root. It does not have tons and tons of features, but what it does do, it does well.
What is it and what does it do
Main Functionality
App Cache Cleaner is an app that clears the cache that is left behind from apps. The app does not require root and is able to clean cache of multiple apps a time.
Pros
Cleans everything in one singular tap
Can clean one app at a time or multiple apps at a time
Can be set to auto clean when the app is opened
Has a timer that can be set so that the app can auto execute cleaning when desired
Can be specified to clear only certain apps
Apps can be listed by size and cache size
Long-pressing an app allows you to share apps, view the app on the Play Store, open, uninstall or view information on the app
Fast cleaning process
Simple user interface
Widget support
Cons
Discussion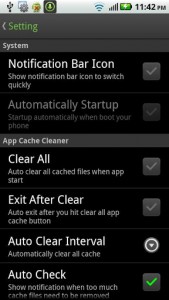 Sometimes you need a very simple app to do a very specific job. App Cache cleaner is probably one of the most straightforward apps that I've come across. I'm very satisfied with this app in fact, it has been very handy for my day to day uses. It's no secret that most versions of Android as well as most Android apps usually eat a ton of memory on your device.
That's why my search almost never ends when it comes to finding an app that can do what something with efficiency . Even though I've always liked App Cache Cleaner, I ended up purchasing SDMaid because it has more advanced features. App Cache Cleaner is great for the basic stuff (obviously cleaning cache) but SDMaid has it's benefits as well.
My favorite feature is the auto cleaning function. I'm a big fan of automation. On a lot of the programs I use on almost all of my devices (no matter the platform) I always end up using macros. So I think that's why I was so happy to see an automation feature. I'm also glad to see that an app's cache can be sorted and listed depending on how big or small it is.
I didn't have too many bad things to say about App Cache Cleaner. When you have something as simple as this, it's really hard to screw it up. The widget wasn't the best thing I've seen, but then again I've never liked widgets on Android. I've always been a minimalist. I can't say that I've used this app in a while, but at one point it was my go-to app. I've always been impressed with it, and in the future I may decide to use it again. For now I'm going to continue using SDMaid.
Conclusion and download link
If you're interested in keeping your user app caches in check and you don't want to deal with obnoxiously complicated apps (some of which cost money), you might want to give App Cache Cleaner a shot. It does exactly what it says, it's blazing fast, it supports automation, and it's very lightweight. You wont have a single problem when it comes to this app. This is an app that I've always recommended to people who crave simplicity. This may just be what you're looking for.
Price: Free
Version reviewed: 3.0.2
Requires: Any
Download size: 797 KB
App Cache Cleaner on Play Store
Related Posts