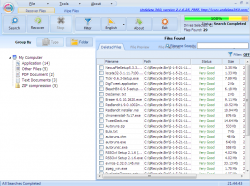 Everyone has accidentally deleted something and instantly regretted it. Or last important files due to computer crash. This is a universal thing. That's why it's very important that you have an undelete program installed. We've covered file restoration programs in the past. Undelete 360 is another one. Let's see if it is worth your time.
WHAT IS IT AND WHAT DOES IT DO
Main Functionality
Undelete 360 is a file recovery program. This program can recover files that you've deleted and files that have been lost due to crash, reformat, etc.
Pros
Recovers deleted (i.e. files deleted from within current Windows installation) and lost (i.e. files that existed prior to a reinstall, computer crash, etc.) files
Can recover files of all types
User interface is clean and intuitive
Shows the status of files (e.g Very Good, Good, Bad etc.)
Can scan external devices
Sorts files by handy file type categories that are easy to understand
Cons
UI is clouded in the top right hand corner by an obnoxious URL
Users must upgrade to a paid version to have more options
Font is horrifying
No bootable media
Discussion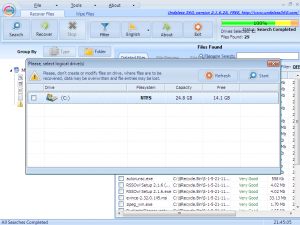 Everyone at one point or another has had the misfortune of deleting something by accident. Luckily, file recovery software exists. I can't count the number of times I've been called up by various members of my family (I have the unfortunate job of family tech support) asking me to save them from their deleted file woes.
I always have a USB stick handy, complete with all sorts of tools I need for 3 different operating systems (Mac, Windows, Linux), and I obviously a file recovery program. Recuva is my program of choice for the most part. Undelete 360 is not a program that I would personally use, but it IS one that I would feel comfortable recommending to people that don't necessarily understand the complexities of other programs.
Undelete 360 has a very easy learning curve. You select your drive and you click start. It then scans for deleted files and tells you what kind of file types that have been recovered. Everything is very neat and almost anyone could understand it. The usability of the program is extremely nice to see, and the user interface is clean, but, it does have some major drawbacks that really annoy me.
The font choice for the program is very irritating to look at, and in the top right corner there's an obnoxious url. I know that the developer is trying to inform the users that there is information available, is doing so in an atrocious manner. This could have been a pop-up notification or a system tray icon. Using a URL is in very bad taste in my view. He could have at least dressed it up a bit. Another minor criticism is that there's the fact that users can pay to get an 'ultimate edition'. I'm conflicted on it. On one hand I wish that the developer wouldn't show features that you have to pay for in the basic app (which you then click on only to be prompted that you can 'unlock' it). I am not opposed to due to the fact that you can pay for an 'ultimate version' because the basic program does just about everything that you'd want it to do. I just wish that it was executed better.
Overall, Undelete 360 is a satisfactory program for people that aren't into the other undelete programs on the market. It's great for new users and it's a good program. It might not be the best, most flawless program, but then again, no program is.
CONCLUSION AND DOWNLOAD LINK
If you're on the market for a basic file recovery program, you might want to give Undelete 360 a shot. It's a solid program albeit not perfect. You never know, you might like it more than I did.
Price: Free
Version reviewed: 2.16
Supported OS: Windows 2000 / XP / VISTA / Windows 7 / 2003 or 2008 Server
Download size: 1.94 MB
VirusTotal malware scan results: 0/46
Is it portable? (Yes or no): No
Related Posts