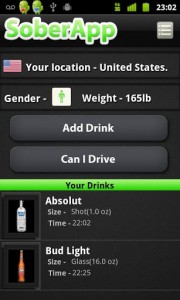 There are plenty of times when I'm out somewhere drinking, and I realize it would be beneficial to have an estimate of my BAC. I'm one of those folks who genuinely doesn't want to drive after drinking, but I know some of you need an app that helps people stay clean. SoberApp will take into account your weight and how many drinks you've had, and then evaluate your blood alcohol content, ultimately helping you decide whether or not you should drive. Legally speaking, you shouldn't drive at all if you're drinking, but let's move on.
What is it and what does it do
Main Functionality
SoberApp allows you to submit your gender, weight and any drinks that you've had and then uses that information to calculate your BAC. This information can then be used to make a number of decisions like, should you be driving, or should you call a cab? There is a convenient taxi company locator embedded also, which allows you to find a ride home even during your tipsiest moments.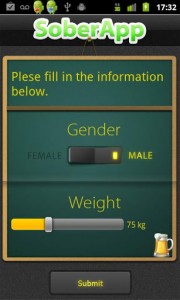 Pros
Can accurately calculate your BAC levels
Comprehensive drink database

You can submit your own drinks if they don't already exist
You can scan a barcode on drinks using your device's camera
Search for drinks using voice dictation functionality
You can take pictures of new drinks to add to the database

App uses location services to determine local drinking laws and legal limits
Location services are also used to locate nearby pubs and taxi companies
Absolutely free and no ads to contend with
You can share your drinking habits via social networks and ask friends for a ride
Quirky reaction test determines your response time before and after drinking
You can reset the drink records, stats and entered data at any time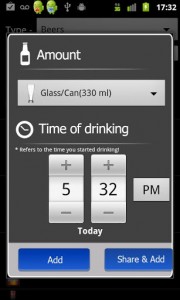 Cons
It can get a little annoying entering drinks every time you have one, that is if you're drinking a lot
If you're drunk it's easy to share your drinking habits via a social network accidentally, and no one wants their Mom and Dad to think they're an alcoholic.
The barcode scanner is not integrated into the app, to use the scanner feature you also have to download a third party scanner
The app calculates in-depth drinking habits and statistics like your favorite drinks, how often you drink and more. This is unnecessary, and I'm not quite sure who would even desire to share this information.
If you use the app constantly, it can cause your battery to expend a little faster what with all the GPS operation and such (this is kind of a no-brainer observation)
Discussion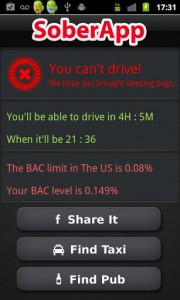 I'm not going to play the devil's advocate here and tell you why or why you should not be driving drunk. You're an adult, you know how the world works and that means you're going to make your own decisions.
SoberApp includes a bunch of nifty features that will primarily help you decide what to do after you've had a few drinks. It's pretty easy to use too, which obviously comes in handy at times when you're already feeling a little tipsy.
SoberApp includes a pre-determined database of more than 3,100 different drinks that range from types of beer, to wine all the way to hard liquor. This information is used to calculate how much alcohol you've consumed, and when combined with your total body weight the app can pretty accurately determine your BAC.
When the app first starts, you'll be prompted to enter both your gender and your current weight. You also have the opportunity to take a reaction test, which measures your reaction time. The first time you take the test you should be totally sober, that way when you take it later, after drinking- you can compare the results and get an accurate reading.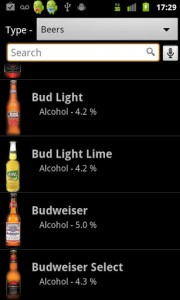 From there it's as easy as adding a drink every time you have one. You can choose an existing drink that's already included in the database, or you can even enter one yourself if necessary along with the ingredients. You must also select the size of the drink, measured in glass sizes, and the time you consumed the beverage.
Once you're done entering all the drinks you've had, all you have to do is hit the "Can I drive" button. It will calculate your current BAC and let you know if it's safe to drive or not by legal means. The app adjusts legal standards according to your current location, thanks to some pretty nifty GPS support. I know, it seems like every app uses GPS and location services these days, but this one is actually quite useful!
If the app determines you are too drunk to drive, then it will also help you locate a taxi company nearby so that you can call for a ride home. If the app says you're good to go, you can continue drinking and even look for more pubs in the area. The app uses Foursquare to scan the nearby area for pubs, while also taking into account your current location thanks to an active GPS signal.
I've used the app several times in the past for fun, and it actually works pretty well. I would say it's accurate enough to follow. Keep in mind, that does not mean I condone driving under the influence- quite the opposite.
SoberApp is totally free, and there are absolutely no advertisements at all to get in your way. Believe me, when you've been drinking quite a bit it's always good to have fewer obstacles to overcome. I can't imagine how difficult it would be to use an app like this with pesky pop-ups when you're drunk. Half the time I'm not even sure how I use Facebook after a long night of drinking.
Conclusion and download link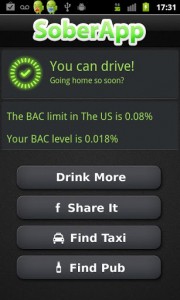 SoberApp is free, and it's also free from advertisements, so there's no reason not to download it really. Of course, if you're the kind of person that never goes out drinking you won't need it, but then again I don't know why you would be reading this review in the first place. It works just as advertised, and does a pretty good job at calculating your BAC too- provided you submit information accurately (this is not the time to lie about your current weight). Thanks to an extensive drink database you don't have to spend time calculating alcohol consumption limits, alternatively you can just pick out what you've had and let the app figure everything out. If anything, SoberApp can be used to locate nearby bars, or taxi companies when the time is right.
Price: Free
Version reviewed: 1.1.1
Requires: 1.6 and up
Download size: 8.5MB
Related Posts