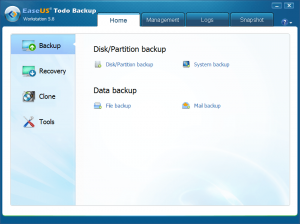 UPDATE: This giveaway is now over. Subscribe to dotTech for daily tech goodies: Email, RSS, Facebook, or Twitter.
EaseUS Todo Backup has been featured on dotTech multiple times in the past. EaseUS Todo Backup Free is featured in our review of best free backup program for Windows and we have reviewed EaseUS Todo Backup Home. Now we bring you a treat: free and unlimited dotTech exclusive giveaway of EaseUS Todo Backup Workstation ($39.95 value)!
For those that don't know, EaseUS Todo Backup is a drive-level (image) backup program that allows you to backup and restore drives, partitions, and whole systems. On top of that, it also supports file-level backup plus has other features like drive cloning, system snapshot, and virtualization.
EaseUS Todo Backup comes in three versions: Free, Home, and Workstation. This giveaway is of Workstation. What makes EaseUS Todo Backup Workstation different from Free and Home versions are the following three major features that Workstation has:
Aility to restore to dissimilar hardware
Ability to virtualize your system (P2V)
Full support for dynamic drives (in addition to basic drives)
The following table, put together by EaseUS, explicitly lists out the features of this program and differences between the three versions: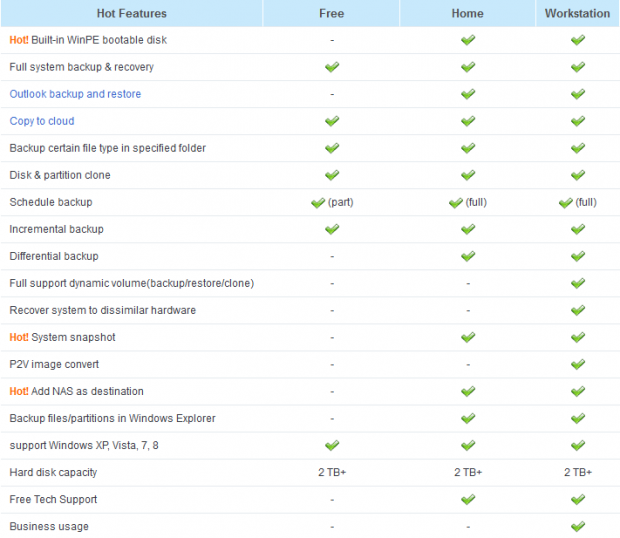 Typically EaseUS Todo Backup Workstation would cost you $39.99. However, in cooperation with EaseUS, dotTech is giving away EaseUS Todo Backup Workstation (v5.8) for free for the next 72-hours!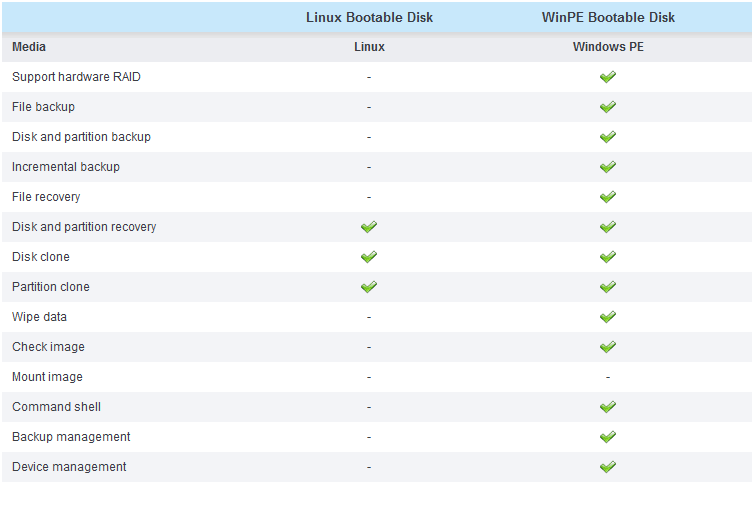 Take note this giveaway includes Linux-based bootable recovery CD/DVD/USB but does not include WinPE-based bootable CD/DVD/USB. The major difference between Linux-based and WinPE-based is Linux-based can restore backups but cannot create backups; WinPE-based can create and restore backups. Since this giveaway does not include WinPE-based, that means you must create backups from within Windows using EaseUS Todo Backup Workstation and can restore backups using the Linux-based bootable media. Since EaseUS Todo Backup Workstation supports restore to dissimilar hardware, you can restore your backups on other computers using the Linux-based bootable media.
UPDATE: A number of dotTechies have reported this giveaway actually does include WinPE-based bootable media. That means you can create and restore backups from the recovery media. Enjoy!
That being said, to take advantage of this giveaway, do the following:
Version being given out for free: v5.8
Free updates: No
Free technical support: No
Supported OS: Windows XP/Vista/Win7/Win8 (32-bit and 64-bit)
Download size: 310 MB
Giveaway time-frame: This giveaway ends Thursday April 4, 2013 at 11:59 PM Pacific Standard Time (GMT -7). You must download, install, and register this giveaway by 11:59 PM on Thursday — you will not be able to install or reinstall after that time.
NOTE: This giveaway is available to everyone, home and commercial users. However, this is a dotTech Exclusive giveaway. So please respect us and do not directly link to the download file or share the serial number. If you want to share this giveaway with others, please share the link to this article. Thank you!
Download (main download link | download mirror 1 | download mirror 2) the giveaway file.
Once downloaded, extract the contents of the ZIP file and run 'dotTech_giveaway_EaseUS_Todo_Backup_Workstation_5.8.exe' to install the program.
During installation, you will be asked to input a 'Serial Number'. Enter GTXZR-HJTRI-1VNKG-WVJ14-2WRDW and click 'Next'.
Finish installation like normal.
Once installation finishes, you are done! You can now use the program as desired.
If you have trouble getting this giveaway, post a comment below and other dotTechies or I will try to help. Enjoy everyone and remember to subscribe to dotTech for daily tech goodies: Email, RSS, Facebook, or Twitter.
Related Posts