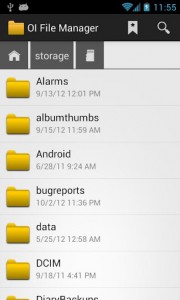 File management is a must on Android. Some file management apps are super advanced and are praised by very technical users while other file managers are basic and simple yet very elegant. OI File Manager is the latter. If you desire a basic but elegant file manager for your Android device, you might want to listen up.
(Be sure to also check out dotTech's review on best free file manager for Android.)
What is it and what does it do
Main Functionality
OI File Manager is a file management app for Android.
Pros
Has the basics of file management (browse files, open, copy, cut, delete, rename, send/share, etc.)
Has the ability to move, copy, paste, rename, creating, or delete directories
Can extract and create ZIP archives
Files are listed with thumbnails
Other applications have no trouble using OI File Manager when doing actions such as "pick file/pick directory"
Can work with OI Notepad to open and save text files
Very simple yet very elegant styling
Fast and responsive with very low memory footprint
Cons
Cannot extract password protected/encrypted ZIPs
No SAMBA support
No FTP support
No SFTP support
Last update was November 11, 2012, meaning updates may be slow or lagging
Discussion
File management is a big deal with me, and I've come to the realization that I'll never find a file manager that can do as much as Ghost Commander File Manager, and this one is really no different because it's pretty hard to beat a file manager that lets you browser your SMB shares on your network, has SFTP and FTP support and other awesome features.
OI File Manager, when it comes down to it, is very basic. It's a great app for what it's worth, but it just doesn't do enough. I feel like this app was designed with my Grandmother in mind and not me. Now, that's not to say that I hate it, because for once I wasn't blasted with mediocrity. This is a major complaint I have with most basic file managers. They're usually very ugly and poorly put together. This isn't really the case this time. OI File Manager is actually pretty elegant, but I still don't think it's for me.
The thumbnail feature is pretty handy, and pretty much an expected feature at this point. It can do basically anything any other file manager can do with no exceptions. There's really no compelling or amazing 'gotta have' feature, and that's the main reason I don't care for it. I want to be able to open my file manager and browse my file server (which I can do with Ghost Commander), I want to transfer files from my web server to my phone or tablet (again, Ghost commander) and I want dual panels. I want a ton of features that this app just cannot deliver to me.
I suppose I'm not really the market for this app, and I fully understand that. I'm an advanced user so I don't have much use for something so basic, but maybe someone who just wants to copy some files would find it to be a very good app. That's the main takeaway with this for me. If you're just looking for a bare file manager, something simplistic and easy, OI File Manager is for you, but it sure isn't for me.
Conclusion and download link
If you're looking for an elegant, basic, lightweight file manager with no frills, this is the app for you. It might not have snazzy features (remote folder browsing, etc), but what it does have is a solid way of allowing you to manage files on your Android device. OI File Manager, at the very least, is worth a look if you need a file manager.
Price: Free
Version reviewed: 2.0.2
Requires: 1.6 and up
Download size: 927 KB
Related Posts