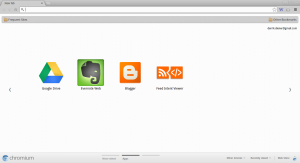 Google Chrome is becoming the worlds preferred internet browser at an alarming rate, and with advances in webkit, Mozilla is having a hard time  catching up. All this is well and good, but if you're not a fan of Google's privacy practices, but you love Chrome, Chromium might just be the best thing to happen to you. Chromium is the privacy-focused cousin of Google's Chrome.
WHAT IS IT AND WHAT DOES IT DO
Main Functionality
Chromium is an open source, WebKit based browser that is closely related to Google's own Chrome Browser. Chromium differentiates itself from Chrome by focusing privacy.
Pros
Much like Google Chrome, Chromium has the standard Chrome features (Pin tab, chrome apps, incognito mode, chrome extension support, paste and search, omnibar, taskbar download manager and the like)
The Chromium project is privacy driven, open source and anyone can commit and contribute to the project at any time
More stable than Chrome on Linux
Chromium removes some of the shady data collection features that regular Google Chrome has
Can be compiled for use on Windows (finding an installer is very rare though possible)
Gets all the new features that Chrome gets
Sometimes can use less memory than standard Chrome on Linux (varies system to system)
Cons
Since there isn't a ton of people involved in the Chromium project, updates can sometimes lag behind (this hasn't happened for a while)
Discussion

I am a firm believer that WebKit is the future. Most of the web is catered towards it, and the competition just isn't as good. Since Chrome has come out I have been on and off towards it, and slowly I have adopted it over Firefox. As much as I love Chrome, this is a browser being made by a company that makes tons of money by gathering user data. That's why I love Chromium.
The Chromium project respects my privacy as a user, and I know that they do. You see, Chromium is open source, so if I have concerns I can modify the code and change it to suit my needs. That is the beauty of open source.  I love Google's innovations. They've got to be one of the most innovative companies of today, but I also get very worried about them. I haven't used Google as my main search engine in 3 years, and Chromium has been my browser of choice for a long time. I still get to experience all of the new features that Chrome has to offer, without using Chrome. It's a wonderful thing. It goes without saying that Chromium is a very great implementation of Chrome, and it really sh0ws. They're basically indistinguishable when it comes to the surface, its just whats underneath that is different.
Since this is an open source project, and sometimes open source projects can lag a bit, the one problem I have with Chromium is that some times (this hasn't happened in a long while) . Sometimes Chromium will lack an update. I don't really have much of a problem with that because that just means that Chromium can be ultra stable. I've had more problems with Chrome on Linux than I've had with Chromium. They're so similar yet totally different.
There is no way that I will ever switch from Chromium to regular Chrome or any other implementation. I even compiled it by hand for Windows. I'm that committed to it, and its a great browser.
CONCLUSION AND DOWNLOAD LINK
If you're a Linux user and you love Google's Chrome, but you worry about your searching and browsing data, please try Chromium. Chromium is literally just Chrome without the hooey. It's a wonderful implementation on a popular browser, and one that is community based and open source.
Price: Free
Version reviewed:  25.0.1364.160 
Supported OS: Any Linux distro (Can be compiled for Windows; .exe installers exist but are rare)
Supported software repositories: Almost any Linux distro
Download size: 22,19 MB+ other dependancy packages that install with it
Is it portable? No
Related Posts