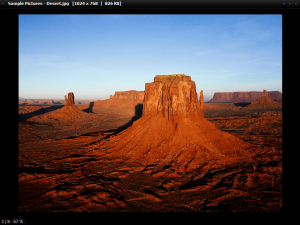 It's common knowledge that Windows has it's own image viewer. The issue is the default image viewer is very basic, such as its inability to support animated GIFs. NexusImage is far from basic. NexusImage is a full featured image viewer, one that even allows you to view the EXIF data in every photo. NexusImage has actually been featured on dotTech before but never fully reviewed. So today we take a full look at the program.
WHAT IS IT AND WHAT DOES IT DO
Main Functionality
NexusImage is an image viewer for Windows.
Pros
Supports JPEG/JPG, BMP/Bitmap, GIF, PNG, TIFF, ICO, WMF, and EMF images
Supports animated GIFs
Basic editing options (rotate left, rotate right, flip horizontal, flip vertical, edit caption copy file, cut file, and copy image)
Can be used to easily view the EXIF data of images (will overlay EXIF data on images)
Built in image caption support
Supports the option of opening an image in an external image editor
Very well designed with very attractive user interface
Is portable
Lightweight and fast
Can be integrated into Windows Explorer
Cons
I wish it had support for more image formats
When opened, it acts as a splash screen and dims the rest of the desktop which can be annoying when mulitasking (this can be disabled with a command)
Discussion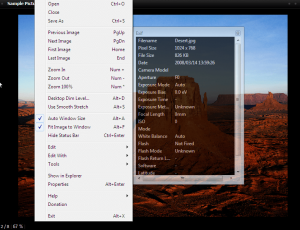 Over the years the default image viewing application from Microsoft has grown and evolved, but it still just isn't up to snuff. Some pretty basic features are just not implemented very well, and it's pretty clear that this is a reason that programs like NexusImage exist. This program is a refreshing take on the many image viewers that I have come into contact with. Most image viewers are either bloated, abstract and technical, or just kind of over the top. NexusImage is pretty, works well, and isn't too crazy. It's simple and I admire that.
NexusImage can view EXIF data, and that's a pretty neat feature. It is my understanding that most advanced 3rd party views have this function, so it's not too amazing, but I still think it's a pretty cool feature. I'm also a big fan of the portability factor for this app. It doesn't use the Windows registry so all you need is the .exe and .ini file and you're set to go.
Another pretty interesting feature is the fact that NexusImage can actually caption images. Yes, you really can place captions on your images right in this program, and I find that to be most interesting. Among allowing you to add captions to your own images, NexusImage also allows users the option to do some basic editing on their images ( rotate left, rotate right, flip horizontal, flip vertical etc).
The only major problem with this program is the fact that NexusImage eats my entire desktop when it's open. Sure, I can still access my desktop, but there's a giant shade of tinted grey covering the whole desktop. Now, this dim level is able to be changed, but that's still something that I don't really agree with in the first place. I don't understand why it's even there. Maybe I'm nit-picking. It's more of an annoyance than anything. I can't say that I'd replace the default picture viewer (mostly because I seldom use Windows these days), but If I had a large photo collection on my Windows machine, I'd probably start using it day-to-day. It's not really a utility so it's not something I'd keep on a usb stick, but it is a very interesting program, and one that I'll put on my 'watch list'.
CONCLUSION AND DOWNLOAD LINK
If you're dissatisfied with the state of your image viewing application, you may want to check NexusImage out. It won't win the race for most number of image formats supported but it supports the major formats, is a great image viewing application, has basic editing options, is portable, and has an attractive user interface. Go on, try it out. I promise you'll like it.
Price: Free

Version reviewed: 1.1.3.992
Supported OS: XP/Vista/7/8
Download size: 2.1 MB
VirusTotal malware scan results: 0/46
Is it portable? Yes
Related Posts