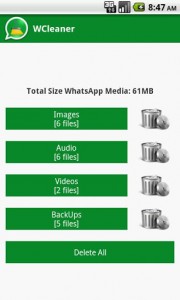 Whatsapp is a pretty popular app. It's for good reason too considering you can send SMS, MMS and more through the service without paying extra messaging fees. Regardless, Whatsapp ends up taking a lot of storage capacity over time, specifically because of media content. Every time a friend sends a photo audio recording or video, it's stored directly on the device. All of this received media content can actually take up quite a bit of space on your device. Luckily, all of those unneeded files and media can be cleaned with WCleaner.
What is it and what does it do
WCleaner is a cleaning tool designed specifically to clean residual files from WhatsApp. It can clean both the internal phone storage and an external SD card. If you would like a copy of the data, you can also back it up with WCleaner.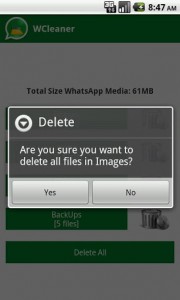 Pros
Deletes images, audios, videos, and backups associated with or downloaded by WhatsApp
Incredibly lightweight and responsive
Extremely easy to use
Not bogged down by a ridiculous amount of sub-menus and options/settings
Media content separated into categories
You can directly open files by selecting them individually
Cons
The WhatsApp downloaded media this app deletes can also be deleted manually via Gallery
File sizes are not displayed in group view
Still in Beta at the time of this writing (this is not necessarily a terrible thing, but it's likely future updates will alter visual aesthetics or the layout and maybe even mechanics)
Discussion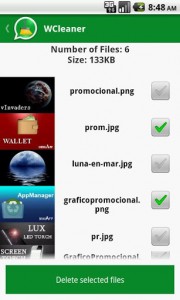 Over time,  WhatsApp accumulates a lot of crap on your device's storage. Mainly the useless rubbish is from multimedia content that's either been sent or received over the network. All received files are downloaded directly to the device.
WCleaner will examine all connected storage for any unnecessary data left behind and forgotten by WhatsApp.
The discovered data is separated into four different categories. Once a scan has been completed, all files marked by the app will be placed into one of the categories. They are as follows: images, audio, videos, backups.
At the category menu, you can see how many files have been marked for cleaning. By selecting one of the categories, you are then brought into a sub-menu which tells you the total size of all the files in the category, and how many files are included within. From there, it's as undemanding as selecting a group of files or one file separately and then tapping on the trashcan icon to remove them. You can also choose to open any of the files individually to preview them before deleting if you feel it is necessary.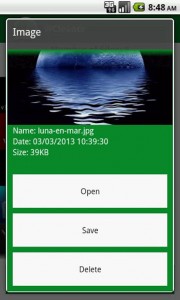 Unfortunately, when you're in the main categories menu, the only thing that is displayed about each category is the number of files within. It would be extremely convenient if the total size of all included files were also displayed, but they're not. Instead, you have to go directly into a group for such information.
You can even make a backup of all data and content so that it may be restored later. The backups can in turn be saved and deleted, as well. Alternatively, if you want to transfer media files to another location, like the DCIM folder for example (main camera folder), you can do so. This comes in handy for any photos or videos received through WhatsApp that you want to keep.
Back at the categories menu, if you just want to delete everything quickly then there's a button just for it. By selecting "delete all" the app will do just that. It's probably a good idea to backup all of your content before deleting everything, just to be safe.
There are no ads, or at least I didn't encounter any in the version I reviewed. Furthermore, WCleaner is incredibly effortless to use, mainly because it's straightforward but also because it's lightweight in terms of resources. It won't be for everyone because not everyone uses WhatsApp -and even out of the ones that do- not everyone is excessively sending or receiving multimedia content.
Conclusion and download link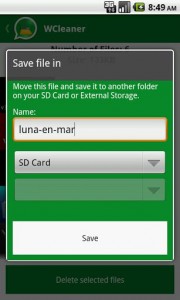 WCleaner is actually tailored for hardcore WhatsApp users, not because the app itself is hard to use but because of the content it targets during its cleaning process. It's hard to believe that everyone who uses WhatsApp has sent, or received so much media through WhatsApp that it takes up a significant amount of room; my guess is only hardcore WhatsApp users use it so much to require cleaning.
Still, if you're part of the niche group that has need of something like this- WCleaner works well. My biggest gripe is that when looking at the categories themselves, the file size is not displayed. This makes it difficult to determine which category is taking up the most space. With WCleaner, you can also backup any content from WhatsApp if you think you'll need to restore it later. As a final note, WCleaner is free and it's capable of cleaning out any files leftover from using WhatsApp. If you need it, then try it out, but if you don't then you should certainly move on.
Price: Free
Version reviewed: 1.2.3
Requires: 2.2 and up
Download size: 269KB
[via Ghacks]
Related Posts