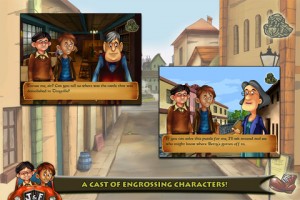 Hi, my name is Tucker, and I'm a puzzle-holic. (Hi, Tucker!) Seriously, you guys…I just can't get enough puzzles. I devour them my the dozens each month: they make great timekillers, and they're a fun way to refresh my tired brain during a case of the mid-afternoon blahs. My love for puzzles is a little odd: my primary craving in any other mobile game genre is a great story…and that's something that too many "good" puzzlers lack. If you like your puzzle games to have a dash of story, check out The Jim and Frank Mysteries, developed by 99Games.
What is it and what does it do
Main Functionality
The Jim and Frank Mysteries is an iOS game featuring 60 puzzles, 8 minigames, and a huge cast of characters.
Pros
Funny writing, solid voice acting, and entertaining cutscenes
20 hours of engaging gameplay spread across 4 chapters
Great for fans of the classic Hardy Boys series, or for fans of the mystery genre in general
Good blend of different types of puzzles to keep things fresh
Cons
If you want to play with retina-quality textures, you need to download another 60 MB file before starting the game
In-game popup menus can be hard to dismiss: some of the controls aren't intuitive
You need to remember to save your progress manually
Discussion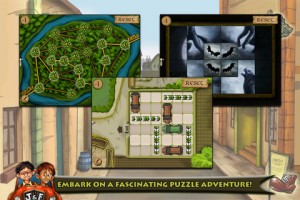 In this interesting little game, you must visit the picturesque town of Tinyville. Two best pals Jim & Frank are on the hunt to discover a well-kept secret: The secret of Blood River. Following clues left by the grandfather of one of the boys, the two best friends embark on their yearly "birthday quest." But this quest is going to be harder and more important than their previous endeavors.
The game offers all kinds of different, exciting puzzles including visual, analytical, logic, jigsaw and hidden object puzzles. Each puzzle you complete brings you one step closer to understanding what's really going on in this game, and each puzzle can score you tons of "gold nuggets." The faster you solve a puzzle, the more gold you earn: if you make a bunch of mistakes, your potential gold haul is diminished.
Keep an eye out for "Eurekas" as you play: these tiny patterned squares are found in every scene, and can be used to skip the more difficult puzzles you encounter later in the game. However, be aware that it takes a lot of them to skip a puzzle. You can also buy Eurekas as an in-app purchase.
The graphics are charming and well-rendered. But what really makes this game stand out are the professional, personable voiceover artists. The voice choices are pitch perfect, and really make the story feel much more immersive. This is a game you actually want to play with the sound up.
Conclusion and download link
The Jim and Frank Mysteries offers a good blend of character-driven storytelling and diverting, amusing puzzles. It captures the wonder of childhood, the mystery of classic adventure books like the Hardy Boys, and also features a diverse array of puzzles and mini games to keep you engaged. Not enough puzzlers have a great story to frame their games: this one definitely does.
Price: Free
Version reviewed: 1.0.1
Requires iPhone/iPad/iPod Touch, iOS version 5.1 0r later
Download size: 46.0 MB
The Jim and Frank Mysteries on Apple App Store
Related Posts