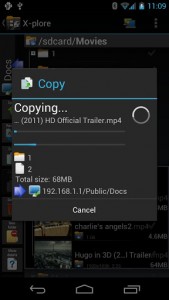 Having a good file manager on Android is very important. If you've looked passed all other file managers and you still haven't settled on a file manager that you love, X-plore File Manager might just be the last stop. This app has dual panels, tree style folder listing, and so much more. It's a well known app, and one that you'll most certainly fall in love with.
What is it and what does it do
Main Functionality
X-plore File Manager is a file managing app for Android.
Pros
Has all the basics of file management (open, copy, delete, rename, share, etc.)
Dual panel support
Folder tree view
Built in image and video viewers, text editor, audio player
Integrates with various cloud services: Dropbox, SugarSync, Box.net, SkyDrive, Webdav, Yandex.disk and Dump Truck
Supports exploring of ZIP and RAR archives as if they were regular folders
Can create ZIP archives
Supports root browsing, FTP, FTPS, Sqlite, SMB, and Picasa
Image viewer has zoom and can navigate to next and previous images in a directory by sliding left or right
Shows thumbnails for images, videos, and certain file types
Can explore APK packages as if they were folders
Configurable key shortcuts
Skinning support
Cons
Doesn't support 7z archives
Does not support password protected/encrypted ZIP or RAR archives
Hideous icon choices
Clumsy user interface
App skins are ugly and look very dated
Discussion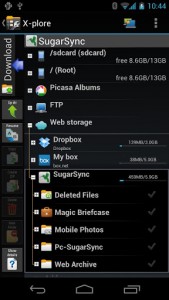 X-plore File Manager is an excellent file manager that boasts FTP support, SMB support, Sqlite support, cloud service support (Google Drive, Dropbox, SugarSync, and etc), ZIP and RAR support as well has other neat features. This app is an excellent app, but this is not the first file manager that I've used that has all these features, so you'll excuse me if I'm not as excited as the people who have been leaving reviews on the Play Store.
It's not that X-plore is a terrible app; it's far from it. But I've already been comfortable with Ghost Commander File Manager, and Ghost Commander can do everything that X-plore does minus the cloud support. The cloud support is nice as I am an avid Google Drive user, but I also prefer the Google Drive app. With this in mind, I'm not really interested in a feature like that. However, just because I use Ghost Commander File Manager does not make X-plore File Manager any worse of an app — it is still excellent.
My favorite feature is the SMB support. I never connect any of my Android devices to my computer. I transfer all files wirelessly by connecting to my Samba server on my network. I also have the Google Drive app for my documents. Ghost Commander solves virtually all my needs, but if there ever comes a time where I may grow tired of Ghost Commander, I'll more than likely switch.
A feature that I really cannot stand is the tree view. I really hate how it looks and how it works. I guess I've just never ever been a fan of  that particular type of file system navigation. Another thing that really bothered me was the icon set. It just looked like something straight out of KDE 3. Overall it just didn't look too good. X-plore really isn't the best looking, but that doesn't matter too much because function is more important.
All in all, X-plore File Manager is a great file manager, but there's really no compelling reason for me personally to switch from what I'm with now. It has some very good features, it even has some features that are competitive with my favorite file manager, but overall, it's still not something that I'm going to use on a day to day basis. I'm just not in the market for a new file manager. However, X-plore is an app that I will be tracking the development on, and if some major issues that I have are addressed, I may seriously consider switching.
Conclusion and download link
If you're in the market for a new advanced file manager for Android, and you've not found anything that you like so far, X-plore File Manager is the app you should settle on. It has all the basics of file management plus support for cloud services, Samba, and FTP plus the really nice ability to explore ZIP and RAR archives. Oh and it is a root explorer, too. Although I personally have no need for it, X-plore File Manager comes highly recommended from us.
Price: Free
Version reviewed: 3.17
Requires: 2.1 and up
Download size: 1.4 MB
X-plore File Manager on Play Store
Related Posts