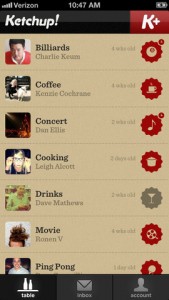 Keeping in touch with friends via Twitter and Facebook is easy. But it's far more fun to hang out in real life! The problem is simple: with so much going on in our lives, it can be hard to make fast plans. If you're tired of your friends saying "Oh, we should grab a drink sometime and catch up," then you need to try Ketchup!
What is it and what does it do
Main Functionality
Ketchup (get it?) is a social networking tool that lets you "catch up" with your friends in real life. You can use this app to make notes of tentative plans to get together with friends, be it for a movie, a night out, or just a cup of coffee. Ketchup is used to send and accept requests to do activities with friends.
Pros
Provides a great service for friends who aren't good at making plans for the future
Great user interface with tons of built-in responses to hang out requests
You can use the app even if your friends don't!
Complementary web app available
Keeps a complete list of people you want to hang out with right at your fingertips
Choose from activity database, or customize your own lists
Cons
You can only log in with Facebook
Discussion
I have plenty of friends that live locally that I would like to see more of. We often say we should get together for drinks or coffee or lunch, but then we never nail down the specifics.
Ketchup is a good way to solve this common social networking problem. If you have friends who have a long work commute, a new baby, or a blossoming relationship, this app can help you reconnect with people you have grown distant from.
Other people who have reviewed the Ketchup app have pointed out that the app is ripe for exploitation with the daily deal set. A great way to incentivize people to use this service would be to integrate deals in their area from LivingSocial or Groupon: giving people an excuse to hang out at a cool new place and catch up with their friends, while also saving some cash. Adding that shopping component would give people a good reason to reconnect, beyond just their desire to "catch up" in person.
Overall, this app is well-designed, simple to navigate, and filled with great features and tools to keep your social life organized. I really hate the fact that you can only log in with Facebook. This is a big problem for people who want to keep their Facebook "friends" at arm's length, and use Ketchup to stay in touch with your "real friends."
Conclusion and download link
If you find it hard to keep track of the people you want to hang out with, Ketchup can help. But at the same time, if you really liked these people so much, wouldn't you already be hanging out with them regularly? This app is cool, but some users might check it out and feel like it's just a mere extension of what Facebook kinda already does.
Price: Free
Version reviewed: 1.0
Requires iPhone/iPad/iPod Touch, iOS version 5.0 or later
Download size: 14.0
Related Posts