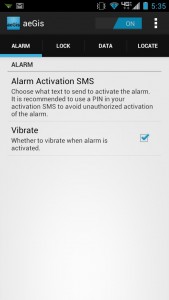 Mobile device security is a serious issue these days. There are endless hordes of virus scanners in the Play Store, along with malware and spyware cleaners. It only makes sense that it's such a hot issue because, now more than ever, mobile devices are used to store a lot of highly personal and sensitive information. While most applications address the issue of protecting your device before an attack, exceedingly few address the aftermath. For example, what can you do to protect your device once it's been stolen, or lost? aeGis is a remarkable security app that addresses that issue.
What is it and what does it do
Main Functionality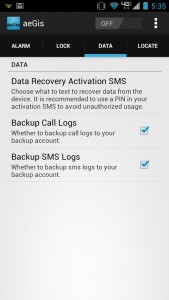 aeGis is a security app that allows remote control via SMS (text message) of lost or stolen devices. It includes a bunch of useful utilities to manage your device in the event that it's lost or stolen. With aeGis you can remotely lock your device, erase all data and information, locate it via GPS, backup call logs and SMS to Dropbox or Google Drive, and set off an alarm.
Pros
Remotely active features just by sending an SMS to your device:

Activate an alarm
Lock the device
Wipe all data
Backup call logs and SMS to Google Drive or Dropbox account
Locate your device through realtime GPS updates

You can activate each function individually, meaning you don't have to use them all if you don't want to
Can be hidden from app tray and accessed by dialing a special code in your Dialer
aeGis is assigned its very own password, to prevent unauthorized changes to app settings
Sends a confirmation SMS when an action has been completed
Designed to be a lightweight background process; minimal energy footprint or battery consumption (as per my testing)
Totally free and devoid of advertisements
You can install the app to the system directory (which prevents unauthorized removal of app, even after a data wipe)
Working via SMS means it won't be so useful for tablets, WiFi only devices, if SIM card is removed, or if smartphone is in place of poor reception
If you're not careful when selecting the activation text you can cause some damage (accidental data wipe, etc.)
Alarm doesn't seem out of the ordinary (sounds like an alarm clock)
Donate version includes no extra features, just to support the developer
Asks for quite the list of permissions, may turn some away (all permission requirements are explained in detail on the Play Store page)
Discussion 
aeGis is a remarkably useful security app that offers some pretty distinctive features. You can find a ton of apps out there that help you protect your device before something happens, but there aren't many that help you deal with the aftermath.
With aeGis,  you can remotely interact with your device just by sending an SMS to it. In the app settings, all you have to do is assign different activation codes for the different functions that aeGis can do. The first thing you'll have to do when starting aeGis up is assign a global password to access the application.
There are four different functions that you can remotely activate.
If your device has been stolen, or even lost you can activate an alarm. Basically, the device sounds off, just like a car alarm, bringing attention to itself. There's also an additional option to vibrate the device simultaneously while the alarm is going off. The alarm itself just sounds like a conventional phone alarm, which is not very useful if the phone has been stolen. If someone else has your device, you want it to be blindingly apparent- the aeGis alarm is not a very good deterrent. Still, it can be used to help you locate your phone in a pinch if it's misplaced in your house somewhere.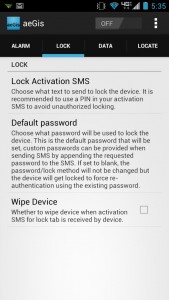 You can remotely lock the device through SMS, and there are two ways to do it. The first method has you appointing a default passcode in the settings menu to unlock the device once it's been locked. For the second method, you can just send an unlock code right along with the activation SMS. There's an additional option to erase all data on the device once it's been locked remotely (exercise caution when playing around with the app for the first time, you don't want to accidentally wipe all of your data).
You can backup data stored on the phone like call logs and SMS so that you can see what someone has been doing with your device. Also, if you lose your device, this option allows you to receive messages you otherwise would not be able to. The data can be backed up to a Dropbox account or a Google Drive account.
Probably one of the best features of aeGis, is the option, to track or locate your device through SMS. Once the program or phone receives the activation message, it will begin sending out detailed GPS information so that you may trace its location.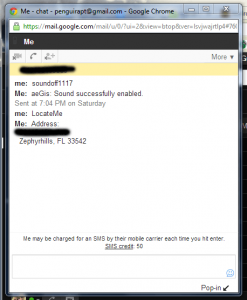 Once you've completed an action through SMS, the application will respond with a confirmation message. Essentially, these confirmation messages allow you to monitor what's happening in realtime.
For aeGis to work properly, however, it needs to be running in the background at all times. Background apps can be problematic because they often use up vital system resources and discharge the battery much faster. For reference, it used 34.7MB of RAM on my device (Droid Bionic) while it was active. As for power consumption, I don't have any real world statistics to show, but I did not see a difference in battery life after installing aeGis and leaving it active.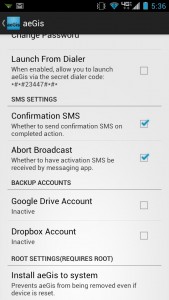 One of the biggest issues with an app like this is that if someone does get a hold of the device they can simply uninstall it before you get a chance to lock everything down. Luckily, aeGis includes several other settings to better protect itself.
There's a handy setting to call up the application by entering a dialer code, just in case you hide the app from the application tray or something. You can also install aeGis to the system directory (requires root access), which means the application stays on the device even after a data wipe.
The app is free, but there are no advertisements to bog down your experience. If you so desire, you can purchase the donate version and give a little something back to the app developer. Paying for the app is not necessary though, and you have unrestricted access to all features even in the free version.
Conclusion and download link
These days, apps like aeGis are necessary. All kinds of nefarious things can happen to your phone, and it's better to be safe than sorry. Long story short, you can activate various useful functions remotely just by sending an SMS to the device with aeGis.
I'm not not a particular fan of remote data wiping,, but the option is there to prevent sensitive information from falling into the wrong hands in case of stolen or lost device (cue the Mission Impossible scene with self-destructing goggles). And the remote device lock is particularly valuable, right along with the GPS location updates through SMS. If anything, you should keep aeGis installed just so you can locate your device no matter where it is.
Overall, aeGis is great.
Price: Free, $1.99 for donate version
Version reviewed: 1.3.3.4
Requires: 4.0 and up
Download size: 2.0MB
Related Posts