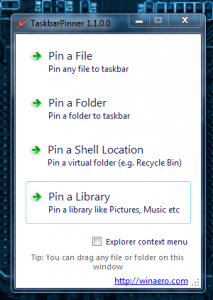 The Windows taskbar is a fantastic tool when used properly. Unfortunately, there are some minor restrictions that make it less useful, even with its tremendous potential. For example, you cannot pin a shortcut for a folder to the taskbar. If you try to pin a folder shortcut, it will instead place a link to the explorer application and not the directory itself. TaskbarPinner is a free Windows program that allows you pin almost anything, thus improving functionality of the Windows taskbar.
What is it and what does it do
Main Functionality
TaskbarPinner is an extremely lightweight program that allows you to pin anything to the windows taskbar and quick launch bar. You can pin shortcuts to a specific file, an entire folder or even a library. The benefit of an app like this is that it vastly improves the functionality of the windows taskbar- ultimately allowing you instant access to the files and folders that you want.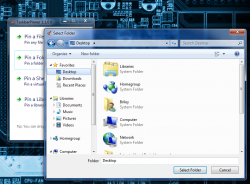 Pros
Supports any file, folder, library, or virtual folder (like Recycle Bin)
Extremely simple and painless UI
You can drag and drop items into the TaskbarPinner window to pin, as opposed to having to browse
You can add a "pin with" option to the right-click context menu
Portable and lightweight (232KB)
Cons
Is for Windows 7 only (since earlier versions of Windows don't has this type of taskbar), but has a companion app for Windows 8, Pin to 8
You cannot edit the icon of pinned items and folders
The app does not add an advanced sub-menu, like other taskbar items have when you right click on them
Discussion
The Windows taskbar is great. It allows you to "pin" shortcuts and applications to the start menu for quick and easy access. The best part about is that it helps keep your desktop clean. Personally, I hate cluttering my desktop with shortcuts and random folders. Without an application like TaskbarPinner, however, there's no way to pin folder and file shortcuts, so the only place they can go is the desktop.
TaskbarPinner is portable, so when you download it from the website it will be in a compressed archive. That means you'll have to Unzip or Unrar the file in order to access the program. In case you're wondering, it can be placed on a USB flash drive, and run directly from it.
The interface is simple and limited. Right when you start the program you are presented with all the options for pinning items to the taskbar. The pinning options are as follows:
Pin a file- you can pin a single file or shortcut to the taskbar for instant access
Pin a folder- you can pin a shortcut that leads to a specific directory
Pin a Shell Location- you can pin a shortcut to various existing Windows menus like the Recycle Bin, Power Options, Windows Firewall and more
Pin a library- you can pin a media or file library like My Documents, Music, Pictures and Videos
To pin something, the process is quick and painless. You select the option from the main menu, and then select the item you want to pin. That's it.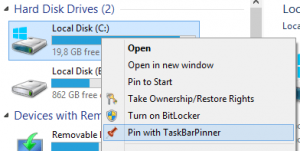 There's an option to add a "pin with" item to the right-click context menu in windows. That way you can just right click on any item you'd like to pin to the taskbar, and select the corresponding option from the context menu.
You can also just click and drag the item you want to pin to the TaskbarPinner window.
Unfortunately, there are some shortcomings that I noticed which don't necessarily affect the program itself, but are minor issues, nonetheless.
After an item has been pinned to the taskbar, you cannot edit the icon. This is particularly frustrating if you use custom icons on a regular basis. It's even more so if you pin a folder to the taskbar because the folder icon is quite unattractive.
With some pinned applications, you gain access to an advanced sub-menu that can be opened by right clicking on the item. In many cases, this advanced menu offers some quick options related to the particular program. For example, right clicking on a web browser will allow you to open a new window or tab with various options activated. Such menus are not added when you pin an item with TaskbarPinner. This is just a minor annoyance actually, and can be overlooked.
Conclusion and download link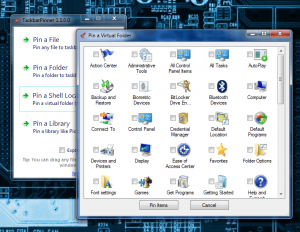 TaskbarPinner is an excellent application for quickly pinning items to the Windows taskbar. It seems silly that you cannot pin certain things by default, like a folder shortcut. Luckily, little apps like this exist specifically to help improve the overall functionality of Windows.
If you just want to clean up your desktop and move shortcuts to the taskbar or start menu, this is a terrific way to do it. Unfortunately, you cannot modify the icon of any pinned items, and folder icons are quite unsightly. Furthermore, the custom pinned items do not get an advanced sub-menu when right clicking on them, like natively pinned items do. If you can look past these minor transgressions, you'll find TaskbarPinner is actually quite useful.
Price: Free
Version reviewed: 1.1.0.0
Supported OS: Windows 7

Download size: 236.54KB
VirusTotal malware scan results: 0/44
Is it portable? Yes
TaskbarPinner homepage | Pin to 8 homepage
Related Posts