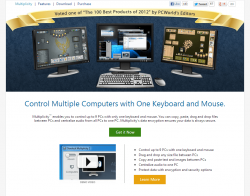 In addition to using multiple displays on my main desktop configuration, I also end up using multiple computers simultaneously at times. I know I'm not alone, and a lot of dotTechies out there do the same. The process would be much easier if you could manage all computers with just a single keyboard and mouse. Luckily, Multiplicity is a free Windows program that lets you do just that.
What is it and what does it do
Main Functionality
Multiplicity allows you to control multiple computers with just a single keyboard and mouse setup. It's a software implementation so there are no hardware tools required. It works just as if you have a multiple display setup except instead of multiple monitors you have multiple PCs, and you can seamlessly navigate between the connected computers.
The following video is a short demo showing Multiplicity in action:
Pros
Allows you to use one mouse and one keyboard on up to nine computers that are on the same local network/WiFi
Can copy/paste (aka transfer) files and share Windows Clipboard between computers
Uses AES 256 encryption to protect the connections between computer
Can share speakers between computers
Can easily send keyboard commands to all connected computers by pressing CTRL three times (and whatever command after pressing CTRL three times is sent to all computers)
Can easily lock all computers at the same time
It just works — install, setup, and and
Customization settings allow you to personalize the multi-machine setup
Cons
Free version only works on two computers, while the Pro version includes support for up to nine
Free version does not have ability to transfer files, share Windows Clipboard, encrypt connection, share speakers, send commands to multiple computers at the same time, or lock computers at the same time — you need Pro for all those features
Installation prompts you to install AVG Security Toolbar (make sure you disable the option if you don't want the toolbar)
Multiplicity client must be installed on all computers in order to connect them
Computers must be on the same WiFi/local network to be connected to each other

Note: The whole point of this program is to be able to control computers that are in front of you (computers who's monitors you can see, not remote computers), so only working on same WiFi/local network is not a big deal. However, I thought I should mention it.
Discussion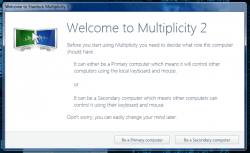 After spending some time with Multiplicity, I can honestly say that I'm quite impressed. As with most complementary software, the free version of Multiplicity has its limitations but even so you can still use it comfortably. The biggest difference between the two versions is that you can only connect two computers simultaneously compared to nine at a time in the Pro version. Personally, I don't know many people who would want to connect nine computers to one keyboard and mouse setup at once, outside of a corporate environment.
When installing the software, you will need to pay attention, it tries to pull a fast one and install the AVG Security toolbar. Luckily, the installation of unwanted software components can be prevented, so it's only a minor nuisance.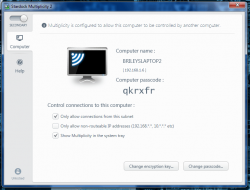 In the Multiplicity world, the connected computers are labeled differently, obviously this helps you determine which machine you are currently using. The primary machine is the host computer, and it's also the one that includes the peripherals you will be using (mouse and keyboard). The secondary machine is the one that will mostly be acting as a second display. When you are installing the software client, and it has to be installed on all connected machines, you can explicitly choose whether the machine is the primary or secondary device. I recommend installing the client on the main computer first.
Once both machines have the client installed, you can move on to the connection phase. This section is fairly straightforward and incredibly easy to complete. In fact, I don't see even the most technology challenged folks having any issues- it walks you through the process. The client on the primary computer should start scanning for a connection right away. If this doesn't happen, there's always a manual "Add Computer" option on the right hand side of the window. If you have to add a secondary computer manually you can just enter the name of the PC in the pop-up window, or click on the icon for it from the window. My installation of Multiplicity automatically discovered and connected to my secondary machine.
Before doing anything, you will have to enter a generated passcode to connect the two devices. Generally the passcode will be displayed on the secondary screen during the connection process.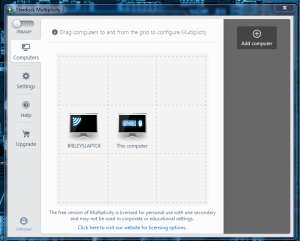 Once connected, you have to setup the layout of the two machines in regard to one another. This is done by allocating them on a 3×3 grid in relation to each other. The primary machine sits in the very center of the grid, and the accompanying devices can be placed around it. For example, I have my main machine in front of me and my secondary machine sitting off to the right, so I moved the icons in the grid to reflect that setup. If you're a little confused by my explanation of this process just refer to the image on the right.
Once the machines are connected it works just like a dual monitor setup. The only exception is that each machine displays the content from its own source. In other words, each screen will display what's being used on the respective machine.
The main point here is that Multiplicity just works. At least in my case, I didn't spend long setting up a connection between my computers. Setup was quick, painless and efficient.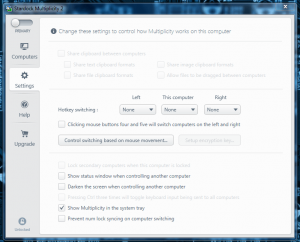 There are some advanced options that make using two computers simultaneously much easier. For example, you can assign a hotkey that specifically switches between the two machines. This enables you to switch between connected computers instantly without scrolling to the edge of the display every time.
You can also control how the mouse acts when switching between displays, including setting a condition so that the mouse stays locked on one screen unless you hold down the shift key. This option is particularly useful if you have menus pressed right up against the edge of the screen.
I hate saying this because no piece of software is perfect, but I actually didn't run into any problems while using Multiplicity. That does not mean you won't have any, and if you do, please feel free to let the community know in the comments- that's what the section is there for.
Multiplicity should be relatively easy to setup even for the Average Joe, and there are plenty of settings offered to ensure that a multiple computer setup works exactly how you want it to.
Conclusion and download link
Multiplicity is an incredibly useful tool that can be used to control multiple computers with just a single keyboard and mouse setup. The setup process is superb, and will be easy for anyone to follow through. The best part about all of this is that Multiplicity is featured-filled; I especially like its ability to encrypt the connection between computers and share files/Windows Clipboard. Overall, I highly recommend Multiplicity to those that want or need it.
That said, I recommend Multiplicity if you are willing and able to purchase Multiplicity Pro for $39.99. If you don't want to shell out money for Multiplicity, I recommend not getting the free version of Multiplicity simply because it is too limited; you can only connect two computers at a time and don't have all the other juicy features found in Pro. Indeed, if you don't/can't purchase Multiplicity Pro, you are better off going with Synergy than Multiplicity Free. Synergy is an open-source and cross-platform program that provides all the same functionality as Multiplicity (except for encryption, Syngery doesn't encrypt connections) but has not limits.
Price: Free, $39.99 (Pro version)
Version reviewed: 2.01
Supported OS: Windows 7/8/Vista/XP (32 bit only)
Download size: 4.3MB
VirusTotal malware scan results: 3/46
Is it portable? No
Related Posts