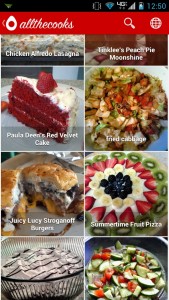 By now you're probably aware that I'm a huge geek. After all, I'm here spending my time as a Dottechie just like you. Even so, I love to cook. Sadly, I don't come from a family that has a history of traditional recipes, which means I have to get mine on the world wide web (I had to stifle a chuckle, it's been a while since I've called the internet that). It only makes sense that I would use my Android to look up recipes because it's convenient, efficient and takes up remarkably little counter space. Naturally, I turn to a mobile app for my cooking recipes. Recipe Search, by allthecooks.com, provides you with access to over 150,000 existing recipes.
What is it and what does it do
Main Functionality
Recipe Search is a comprehensive cooking application that includes a large database of recipes. I say "comprehensive," because it does a whole lot more than just show recipes. It's essentially a social community filled with cooking enthusiasts and reference materials. It includes recipes, calorie counts, forums, a meal planner, a shopping list tool and more.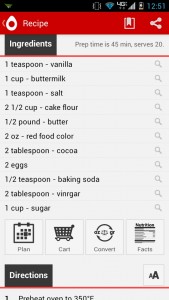 Pros
150K+ cooking recipes right at your fingertips

Don't worry there's a search tool
You can browse recipes by cuisine categories
Favorite recipes can be bookmarked for quick access later

No need to setup a social account if you don't want to, you can still browse recipes
There's even a handy bartending section, it includes drink recipes
Community forums so you can participate in discussions with like-minded people
Mobile notifications can be disabled (that's always a plus, right?)
The UI is fantastic, makes ample use of the Holo theme and is designed well
Requires a data connection to use (WiFi/data)
You must be signed in to use the social features, like storing personal recipes, creating a shopping list, or planning a meal
The app uses 52MB of RAM while it's running (that's quite a bit for a mobile app)
Advertisements scattered throughout, most of them are banners that are easy to ignore but some do get in the way
Discussion
You can find recipes almost anywhere. There is a plethora of websites specifically dedicated to helping cooks whip something up in the comfort of their own kitchen. I'm willing to bet there are a lot of mobile apps out there too. So what makes Recipe Search any different? Honestly, the answer to that is the social aspect of the application. So, I'll tell you right now that if you have no interest in social apps of any kind you should probably stop reading.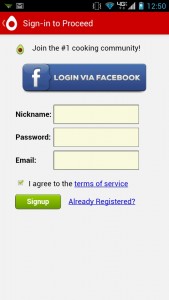 Some of the app features are only available if you sign into a social account. If all you need to do is look up recipes and images of some pretty delicious foods, then you don't need to sign in at all.
You can opt to sign in with your Facebook account, or you can create a custom account just for use with Recipe Search. I never like giving applications permission to use my Facebook account, so naturally I created a new one just for Recipe Search.
Social functions include personal profile customization, recipe creation, a meal planner and a grocery shopping list. Other social features include a news feed, and user forums, but they only require that you are signed in to participate in a discussion- you can still scan them freely if you're not logged into a social account.
With the recipe creation function obviously you can submit your own recipes for the rest of the community. The meal planner allows you to plan out your next meal, along with calories and ingredients. Finally, the grocery shopping list is pretty straightforward; you can create and save a shopping list for perusal later.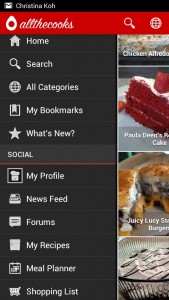 The added functions and social aspects are pretty nifty, but they're surely not everyone's cup of tea. The main point here is that you don't have to participate socially in order to make use of the app. Unfortunately, the app does require a data connection of some kind in order to sync information and pull the recipes and images.
Because the recipe database is so large, you can always search for a specific recipe if you so desire. You can also browse recipes by different food categories, and you can bookmark your favorite recipes for quick access later. In case you're wondering, you do not have to be signed in with a social account in order to bookmark recipes.
When you first open the app, you'll be treated to a tasty feed full of images, all of which prominently display finished recipes. You can click on any of the images to go to the specific recipe page associate with that food. Every recipe page includes an ingredients list, cooking directions, a related recipes section, user reviews, Q&A area and of course photos.
The biggest issue I found with the app is that it uses around 52MB of RAM, which is actually a lot for a mobile application. I'm sure if you leave the app running, it will drain your battery faster. That being said, the latter statement is merely an assumption based on the fact that more RAM usage at constant intervals generally means decreased battery life.
Conclusion and download link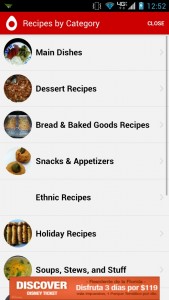 All in all, Recipe Search is a delightful mobile application for looking up recipes. Just keep in mind it requires a data connection in order to pull the necessary information. Also a downside, is the fact that it uses 52MB of RAM. The increased memory consumption is probably due to the added social features integrated into the app. Luckily, you don't have to use the social features if you don't want to and this isn't an "always on" app. In fact, I probably will never join any discussions on the associated cooking forums, but that doesn't mean I won't still use the app for checking out recipes. Overall, if you're looking for an appealing and comprehensive database of recipes, then Recipe Search is a good bet.
Price: Free
Version reviewed: 3.25
Requires: 1.6 and up
Download size: 2.6MB
Related Posts