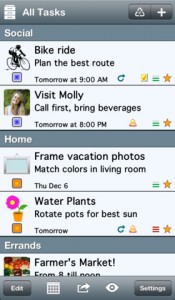 Free apps are often Lite apps…and that means they lack a ton of basic features. It's nice to find that some developers are committed to making Free apps that are still full-featured, useful tools. One such free app is Errands To-Do List, a free app with tons of features developed by Yoctoville.
What is it and what does it do
Main Functionality
Errands is a task manager with a pleasing design. You can use this universal app to organize your tasks into folders for easy viewing, build out checklists, set alerts for certain tasks, and customize your tasks with your own photographs.
Pros
A convenient Recycle Bin allows you to easily create new tasks from previously completed entries. This is a big time-saver given that many tasks are things that are done again (and again).
This version features a small (but important) bug fix: task alerts were not firing at the scheduled time for some users, but this has now been addressed
Lists can be turned into checklists for going shopping
You can customize Errands to fit your tastes using the in-app Settings
Mini User's Guide in the Settings makes getting started nice and easy
Cons
Full support for iCloud Sync only available with Premium upgrade for $2.99
It would be nice to have something beyond the "little dot" on your calendar to mark dates where you have tasks or appointments: brighter colors, different icons, or something that's just more eye-catching on the iPhone's smaller screen
Discussion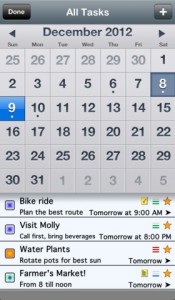 Far and away, my favorite aspect of using Errands To-Do List is the app's convenient Recycle Bin, which allows you to easily create new tasks from previously completed entries. This is a big time-saver, and it's something that I've not seen in any other to-do list app (or at least, not done as well as it is here.)
Another thing I love is the ability to add a "details" sub-header to your tasks. This makes it easy to see important notes at a glance, and you don't have to go into the Task itself to get a quick reminder about the event or task you're prepping for.
A great thing about this app is that even though it's Free, it isn't "Lite." It's fully functional and a blast to use. That being said, there are just a couple of features you need to upgrade to Premium to get. These include full iCloud Sync support for using the app on multiple iOS devices, passcode locking, and extra alert tones and sounds.
If you can live without these perks (which I certainly can), Errands is a pretty feature-rich scheduling tool. I love the flexibility that the app offers in terms of customization. You can view items in "regular" mode (4 tasks at once), or condensed mode (8 tasks.) You can also sort your items alphabetically, by priority, or by manually "grabbing" them and moving them around.
Conclusion and download link
Errands is in active development and frequent updates are in the pipeline. For that reason alone, Errands To-Do List is worth using: there are just too many other to-do list apps out there that lack a dedicated developer who is constantly improving the app. With its innovative Recycle Bin feature and a whole pile of other time-saving tools, Errands is a truly top-notch app.
Price: Free
Version reviewed: 3.2.3
Requires iPhone/iPad/iPod Touch, iOS version 5.0 or later
Download size:  9.6 MB
Errands To-Do List on Apple App Store
Related Posts