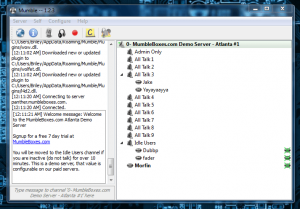 While playing games on a PC, especially MMOs, it's necessary to talk to teammates and fellow players through VoIP software, or Voice over IP. There are several VoIP alternatives out there, some of which take up valuable system resources and provide poor audio quality. Skype, for example, is a terrible application to keep running in the background while you're trying to  play a game. Mumble is a free, and open-source VoIP client that is specifically designed to use fewer system resources without sacrificing audio quality.
What is it and what does it do
Main Functionality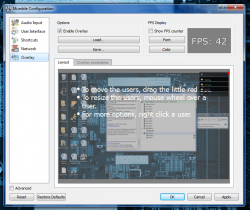 Mumble is an incredibly lightweight VoIP program which makes it ideal for use while gaming. The unique interface and bonus features are truly what make it stand out from the pack, however. It uses just 30MB of memory while running in the background and includes a slew of advanced features that give even some premium software a run for their money.
Take note Mumble is available for Windows, Mac OS X, and Linux. We specifically reviewed the Windows version.
Pros
Attractive in-game overlay allows you to keep track of who is speaking
Open source and free, plenty of customization options including user skins and plugins
Multiple users can speak at once in a single channel without audio distortion
Has free servers you can use (you don't need to setup your own) with crystal clear audio quality and surprisingly low latency levels
Push-to-talk function and several other advanced settings like the option to designate a "priority speaker"
Quick, responsive and relatively lightweight, only uses about 30MB
Works on Windows, Mac OS X, and Linux and you can chat with people that use Mumble on operating systems different than yours (e.g. if you are on Windows, you can talk to people on Mac OS X and Linux too)
Cons
Setup can be a pain if you've never used a VoIP client before (luckily the UI is labeled efficiently)
Servers can sometimes be overcrowded, and channels can be too
There is no way to distinguish between password protected and open servers
Default connect and disconnect hotkeys (Ctrl+O and Ctrl+F4) can cause issues and even close the active window; they cannot be changed either
Discussion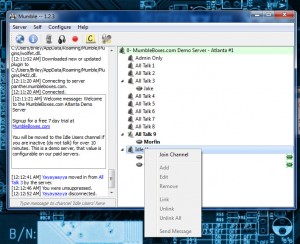 This application is for all you dotTechie gamers out there! If you're not a gamer, well then this still applies if you can make use of it.
This is going to sound pompous, but speaking as a gamer myself I know what to look for when it comes to VoIP software for conversing with fellow players. I've spent many a day behind the eerie glow of a monitor slaying trolls, dragons and more. All the while my fellow comrades blared commands across the vast clutches of the web, often harried by the urgency of our latest assault.
What does a team speak client need in order to be considered worthy of gamer material? It needs to have decent quality audio, yet low latency support. It also needs to have a fitting in game overlay and hotkeys that can be used without minimizing a game. Most of all, it needs to use remarkably few system resources leaving them available for even the most graphic intensive titles.
Mumble has all of the above, but that does not mean it is perfect. The real question is whether or not Mumble is suitable for gaming? The answer is most definitely.
The first time you open Mumble it will take you through the setup process, it's all guided so just follow the prompts.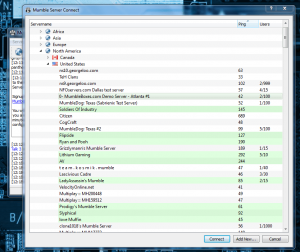 When you open up Mumble, you will have to connect to any number of servers that are available. The program will automatically identify your home country and then offer up a list of servers order in slowest to fastest in terms of connection. This speed of the connection is determined by ping response time. If you don't know what that is, then just think of playing echo in a long tunnel.
Some of the servers are password protected, while others are not. Unfortunately, this is one issue with the software- there is no way to distinguish the password protected servers from the open ones.
Once you connect to a server you will be placed in an open room, usually by yourself and labeled as AFK, or away from keyboard. To join up with other players, you need to right click on a channel on the server and select "Join Channel." It's best to coordinate your channels with mates beforehand that way you all join the same one. I'm going to assume you don't want to talk to random strangers all the time, and that's why I passed on that lovely tip.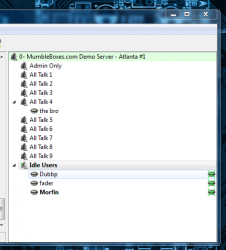 Once you're inside a channel, you can finally talk to other players. It works almost exactly like Ventrilo if you've ever used Vent before. All of the connected users are displayed in a simple list, and when they speak an icon next to their name will turn red. If you're in-game, an overlay will appear displaying the name of the speaker so you can tell just who's talking. One of the best features of Mumble is that multiple users can all talk at once, with little to no distortion. In most VoIP clients,  only one person can speak at a time because it cuts everyone else off from communicating.
There's a pretty handy feature called "priority speaker" that only applies to your own client. If you give a player priority, then their voice will always take precedence over anyone else speaking. This has no effect on the channel at all, only on your own personal client.
You can mute others and yourself thanks to various hotkeys, all of which can be customized in the application settings. A voice dictation features tells you when different options are active, for example, when you mute yourself. This ensures that you are aware at all times what's happening. I've muted myself on a VoIP client in the past, and spent hours talking to no one before I realized I was muted. I know I'm not the only one it's happened to either.
You can also enable a push-to-talk function if you want, that allows you to refine what's passed through your mic. This is a standard feature in most VoIP clients, except for Skype which picks up all audio coming from a mic unless it's muted.
Conclusion and download link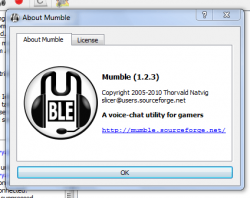 Mumble is an excellent VoIP client for experienced gamers and noobs alike. It's free, open-source and works just as good as any premium software on the market. It reminds me of Ventrilo, and it's a lot like it except for the fact that Mumble uses pre-designated servers. The audio quality is impressive in its own right, and several users can even talk at one time without distortion happening, something that doesn't usually occur over VoIP. The in-game overlay and hotkeys are perfect for when you're engaged in the heat of battle and cannot waste time trying to determine who is calling out to you. Best of all, it uses a relatively little memory footprint, leaving your rig free to deal with hardware intensive games. Check out Mumble if you need such a VoIP to communicate while pwning noobs.
Price: Free
Version reviewed: 1.2.3a
Supported OS: Windows (XP, Vista, Seven), Mac OS X, Linux (Ubuntu)
Download size: 17MB
VirusTotal malware scan results: 1/46
Is it portable? No
Related Posts