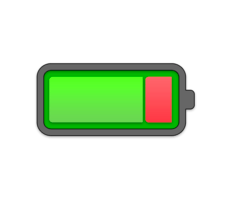 My significant other has been raving about Battery Guard, and so I decided to give it a try. When my S.O. says something is good, he is always right…except about how good "Stargate SG-1" is….sorry, babe, but that show is just plain booooring about 90 percent of the time. Anyway, on to the review of Battery Guard!
What is it and what does it do
Main Functionality
The official App Store description for this app reads as follows: "Battery Guard tells you how long your battery will last! It is a fully featured, enhanced replacement for the battery tray icon that comes with your Mac."
Pros
Attractive design
Offers more information that Apple's native Mac battery monitor
Now warns you when 10% of battery is remaining
Displays remaining battery life as either a percentage, or as an hour/minute display
Also displays battery age, number of cycles, and current battery temp in both Celsius and Fahrenheit
Monitors charge level, capacity, original capacity, and time remaining for your personal edification (charge percentage is rounded to the nearest tenth of a percent)
Can be removed from your menu bar with just one click
Cons
Annoying pop-up ad for other Mac Apps is the first thing that greets you upon startup of Battery Guard
Current charge info isn't easily understandable for laypeople, though it does give users some perspective on how the battery has aged because of the inclusion of the original charging specs
No graphs or tools to help you monitor your usage or learn tricks for prolonging your battery life.
Discussion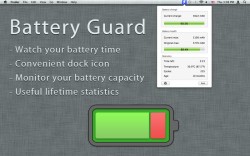 I don't know what a mAh is, but I would like to learn! This app should be updated with a layperson-friendly FAQ or interactive widget that explains what all of the mAh features mean.
Battery Guard is a battery monitor for OCD, obsessive Mac owners…and I mean that in a good way. You get a ton of detailed information, and Battery Guard monitors your battery charge down to a tenth of a percent, which is more precise that Apple's native battery monitoring tool.
Because this app monitors your current charge capacity as well as the battery's original capacity specs, it seems only natural that this app's next evolution needs to include a graph that shows the rate at which your battery is failing over time. This would help users to plan when they need to buy and install a new battery.
Conclusion and download link
This simple Mac App is a great improvement over Apple's paltry, native battery monitor. With a few minor tweaks to better educate users about how to keep their battery at its peak, this could become an ultimate-level app. If you want to get a more comprehensive understanding of your battery's charge, health, and deterioration over time, this app is worth checking out. It's free, so what are you waiting for?
Price: Free
Version reviewed: 1.1.1
Requires OS X 10.6 or later
Download size: 0.1 MB
Battery Guard on Apple App Store
Related Posts