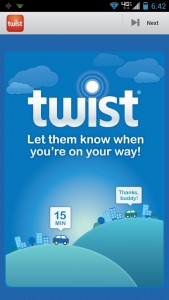 Texting while driving is unacceptable, but that goes without saying. Unfortunately, there are times when texting can be a necessary evil. Please keep in mind that I'm not condoning the act, just pointing out that there are scenarios where it's hard to avoid. For example, texting a friend to let them know you're on your way, or close by is often a good idea. Even texting your significant other to let them know you're almost home is a habit many of us can't break. Twist- On My Way! is a mobile application that is designed to notify friends and family on your current location using an active GPS signal. This allows you to remain hands-free and truly focus on your driving- which for many of us, is a good thing.
What is it and what does it do
Main Functionality
Twist alerts contacts, that you specifically designate, when you're close to their location, or even when you're running late. It's designed to work no matter how you're traveling, whether that involves driving, walking or even using public transport. It will share your estimated time of arrival with friends and family automatically so that you don't have to worry about it.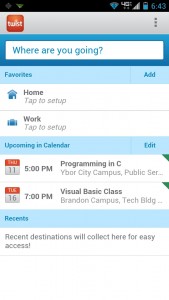 Pros
Will send out notifications automatically at various intervals during your trip

Departure message
Arrival Message
Status Message (running late)
Current location updates

Favorite list for custom locations you visit frequently
Recently visited locations stored for quick access
Can opt to send text messages from personal phone or Twist servers
There's not much to it, but that's a good thing because it's not bogged down with unnecessary features
There are no advertisements despite being totally free
Uses Google Maps for navigation and location services
Cons
Drains the battery significantly just like navigation software, use it sparingly

Any smartphone, it doesn't matter the make or model, will experience significant battery drain while the GPS radio is in use. Twist uses a consistent GPS feed to determine your position accurately, which means just like navigation software it can drain your battery pretty quickly. Keep that in mind if you decide to use the app, and don't be alarmed when it eats through your battery. I'm going to include this issue as a con, but it's the last time I'll mention it in this review. According to the developers Twist makes use of proprietary GPS techniques which supposedly lessens the battery drain, but during my use I noticed a pretty strong drain regardless.

No way to customize messages and notifications
Only available in US, CA, UK and AU
Requires Android 4.0.3 (ICS) and up
Discussion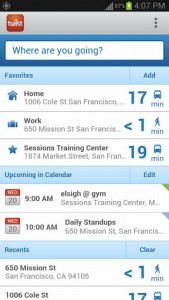 The app itself is extremely straightforward, so there aren't many features to drone on about. When you first start it up, you'll need to enter your home and work addresses, these are stored as favorites for quick access later. When you set up a destination, you can also pre-determine who will receive a notification about your location. For example, when I set up my home address I designated my girlfriend as the primary recipient. That way, whenever I set my destination as home in the app, it will automatically send her a text that I'm close by.
Before you depart from a location, all you have to do is create the twist, and the app will handle all the necessary details. For each location you can choose to send a departure message, a late message (for when you're running late), and even an arrival message. If you want someone to know your exact location, you can opt to send that along too.
You can add custom favorites to the app for any frequented locations. There's also a recently visited section that displays places you've been. One handy feature even displays upcoming events in your calendar, which you can tie to a specific location.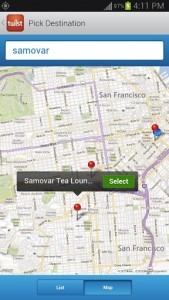 When sending out a text message, you can choose to send an alert directly from your own phone, or you can send one from the Twist servers. You can also push a notification to your own device so that you can see what the app is doing when it's alerting friends and family.
There's the usual option to invite friends to the app by sending out a text message. There's no need for anyone else to install the app to receive your notifications though. It will work just fine even if you're the only one that uses Twist.
It works well, and as advertised. During your trip the app sends out a simple text message stating the ETA to the contacts you designate. There is no way to customize the messages, so you'll just have to make due with how the app handles them. In case you're wondering, the messages sent from my device just contained a simple time, ETA or location.
Conclusion and download link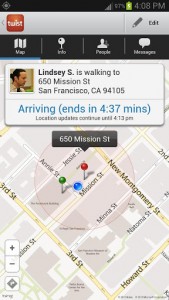 If you need a straightforward app that will alert friends and family when you're close by, then Twist can do precisely that. It does drain the battery thanks to its regular use of your phone's GPS radio — so it should be used sparingly — but it's not hard at all to setup, and you can keep all of your most frequented locations front and center. The idea here is that it will help you stay hands free while you're traveling. Before you depart from your current location all you have to do is create the Twist, and the app will handle the rest. Furthermore, the application is totally free and there are no advertisements to get in your way either. If you are in the market for such an app, check out Twist.
Price: Free
Version reviewed: 1.0.40
Requires: 4.0.3 and up
Download size: 2.8MB
Related Posts