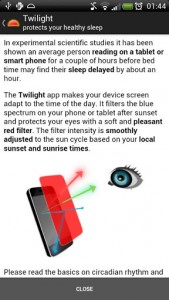 Recently I reviewed F.lux for Windows, and it turned out to be a pretty big hit with Dottechies. It's an awesome program that adjusts the tone and colors of your screen depending on the current time of day. There is a mobile version of F.lux available, but it's for iOS only. Luckily, Android users have a much better option, and it is called Twilight. Ever have those times where you're staring at an exceptionally bright screen in the dark? This application specifically fixes that problem.
What is it and what does it do
Main Functionality
Some recent research suggests that prolonged exposure to bright light, or more specifically the blue glow from modern devices, can cause insomnia and ruin your ability to fall asleep. Twilight adjusts the display on your device to reflect the time of the day by applying a red filter to keep the bright tone of the screen down to a minimum. Apparently this prevents the blow glue from your smartphone or tablet display from preventing melatonin production, and subsequently promotes healthier sleeping habits.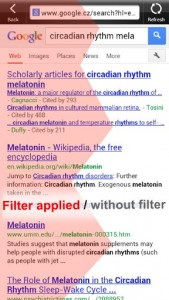 Pros
Tints the display with a reddish hue in order to create a more pleasant glow, which promotes healthier sleeping habits
Application will start when your device boots and runs in the background
Preview function allows you to see what the filter looks like
Adds an icon to the Android notification tray, can stop and resume the app from this icon
You can customize the filter strength and filter type
Cons
Need the pro version to implement custom sunset and sunrise settings (controls when the filter is applied)
Uses 32MB of RAM while running in the background, which is quite a lot for an Android app
The grammar in the "How It Works" section is not so pleasant (although that isn't necessarily a huge con)
Has no pesky advertisements but there is a status bar at the bottom asking you to evaluate the app in Google Play
Discussion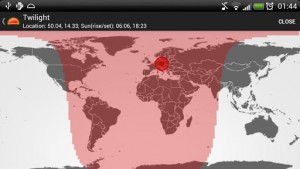 Whatever your reason for using Twilight, it's certainly much more enjoyable browsing your smartphone or tablet in the dark when the screen isn't so blinding.
Basically, Twilight works like this, it takes into account your current location settings and slowly tints the screen on your device with a reddish hue. There actually isn't much to setup, which is a plus trust me. All you have to do is install the app, and it will run in the background and handle all the necessary details.
For reference, Twilight runs in the background as a single service and uses a total of 32MB of RAM. In terms of energy consumption, I haven't noticed any significant battery drain while using the app.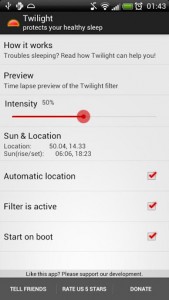 If you want to see what kind of changes are going to be made, there's a handy preview function that shows you a quick time-lapse of the display filter. You can choose between several different filter types, all of which are determined by the surrounding light. For example, there are different filters for candle light, and for halogen bulbs and fluorescent bulbs. Realistically, you don't have to keep the filter type confined to the type of light from the surrounding environment. Each filter type offers a different tint to the display, and you can use the preview function to determine which filter you prefer.
The app settings are not exhaustive, but everything that is included is quite useful. You can change the intensity of the filter, enable or disable automatic location settings, enable or disable the filter itself, hide the status icon from the notification tray, and even start Twilight on boot. You can also manually adjust the position of the sun via a global map if you so desire.
There is a pro version of the app available for $2.54 that unlocks a couple more advanced settings. With the pro version,  you can set custom times for sunrise and sunset, which essentially alters when the filter is applied or removed.
Twilight works well, and it runs in the background so that you don't even have to worry about it. By default the option to start the application when your device boots is already enabled. That means every time you restart your device Twilight will run by itself. Of course, you can enable this if you want to run the app manually.
There's also a Twilight icon that appears in the Android notification tray, and when you interact with it you can pause or restart the display filter. If you're using the device while the filter is active and you want to see the usual brightness or colors, you can just simply tap the icon in the notification tray to restore everything to normal for a bit. Then when you want to apply the filter again, you just tap the icon a second time. It's a pretty convenient feature if you ask me, and it certainly comes in handy sometimes.
Conclusion and download link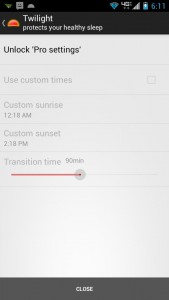 Twilight is almost exactly like F.lux, if you've ever used it before. The main difference being that Twilight is for Android devices and not Windows. There are a couple of extra settings offered in Twilight, like the option to change the filter intensity and type. You can even start the application when your device boots and leave it to run in the background at all time. It does use about 32MB of RAM while running, which means it's not quite as lightweight as I would like, but that's okay.
Overall, Twilight does the job, and it does the job well — that's what matters most. I can stand to look at my smartphone and tablet in the dark now without hurting my eyes, thanks to Twilight. I recommend this to everyone. At least try it out.
Price: Free, $2.54 (Pro version)
Version reviewed: 1.4
Requires: 2.1 and up
Download size: 1MB
Related Posts