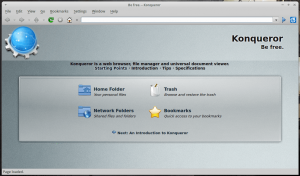 Tired of mainstream browsers? Tired of Webkit? Want something exciting? Konqueror might just be up your alley. Konqueror is a web browser powered by KHTML web technologies, is open source, and brought to you by the KDE project.
WHAT IS IT AND WHAT DOES IT DO
Main Functionality
Konqueror is a web browser and a file manager, built and maintained by the KDE project. Konqueror is powered by KHTML. Konqueror can be installed on Linux and Windows or Mac if you install KDE on Windows/Mac. This review focuses on the Linux version.
Pros
Uses KHTML as it's browser layout engine
Complies to open web standards
Ad blocking support
Plugin support (via Konqueror I/O plugin system)
Brilliant file manager integration (allows for the viewing of local and remote file systems via a file system)
File manager component of Konqueror supports FTP, SSH, SFTP, and Samba protocol
Built in IMAP email client
VNC viewer support
Can be used as a PDF viewer
Can be used as a text editor
Can be used as a spreadsheet editor
Can be used as an SVN client
Cons
Has many disadvantages by not going the Webkit route (e.g. all webpages may not display properly)

Note: Webkit is actually a fork of KHTML, which is used by Konqueror. However, even though Webkit originated from KHTML, they are two separate engines maintained by different developers now.

No extension support similar to Opera, Chrome/Chromium, and Firefox
Discussion
Konqueror is a very robust and powerful web browsing program, but sometimes I think that it's a bit too robust. For starters, it comes with an IMAP Email client, has a native PDF viewer, and it even has a file manager. This is no joke of a program, and looking at some of the other alternatives like Midori or Arora, it makes me happy to know that not all browser alternatives are terrible.
I really like Konqueror. I really do. However, part of me thinks that I'm getting hit with too much. It's very interesting to see that Konqueror (the browsing part) is powered by the KHTML rendering engine, something that the KDE has created themselves, and not the infamous Webkit. I love Webkit, but there comes a point when we should all do something different. It's a little annoying seeing a ton of Chromium forks that are being described as anything more than a reskinned Chromium with a new name and different features. This browser/file manager/email client/PDF viewer/text editor is KDE's baby and it really shows.
The most intriguing feature is the fact that I get to have a full featured file manager. That's awesome. I love that Konqueror has so much to offer, and I love that everything is in one place. I'm a huge fan of simplifying workflow. Konqueror totally helps me solve that problem. Another really useful feature is the fact that Konqueror has an IMAP email client. It will most certainly come in handy for the right person, but I'm more of a webmail kind of guy.
As much as I respect KDE for going their own way with KHTML, there is no doubt in my mind that you're still missing out on a lot when you go without a mainstream browser. Konqueror does not have any sort of app, plugin or addon store to mention. It does have native adblocking support and has some plugin support via Konqueror I/O plugin system. In the end, even with so many features, it still can come up short. This browser is a very good browser if you're looking for something that can solve all your problems, but if you (like me) look forward to new features that Google or Mozilla are adding every day, this might not be a good enough reason to switch.
CONCLUSION AND DOWNLOAD LINK
In its own right, Konqueror is a great browser. However, I provide a qualified recommendation. If you're just not interested in what Google, Opera, or Mozilla have to offer, then by all means Konqueror is easily one of the greatest browsers on Linux. If this does not apply to you, and you're just into finding a great web browser, and you don't need a file manager and a built in email client, you might as well just stick with what you have. The advantage of Konqueror is its additional features beyond web browsing and if those don't interest you, there is no point in using Konqueror.
Price: Free
Version reviewed: 4.10.2
Supported OS: Any Linux distro that supports KDE

Note: Konqueror can also be installed on Windows or Mac. Windows or Mac users must follow the 'Install KDE software on Mac/Windows' instructions, find a standalone installer, or compile it themselves. You must install KDE on Windows/Mac to get Konqueror.

Download size: Unknown
Is it portable? No
Related Posts