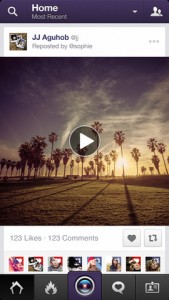 Sharing videos with friends is a great way to stay in touch, say "wish you were here," or make a big announcement. Unfortunately, the App Store marketplace is so crowded that it can often seem impossible to separate the good apps from the bad ones. Viddy just dropped a big update today, making this the perfect time to scrutinize this popular tool. The app made some waves back in 2011 when it was the iTunes App of the Week for May 12, 2011. Almost two years later, how does this app stack up…and are all of today's upgrades to the app a good thing?
What is it and what does it do
Main Functionality
Viddy is a simple way to capture, create, and share short, 30-second social videos with friends. Described as "Twitter for videos," Viddy is great for public or private video sharing.
Pros
Register with Facebook or Twitter
One-touch publishing to Facebook, Twitter, YouTube and Tumblr
Share videos publicly with the Viddy community, with friends only, or privately with select individuals via email or text message
Snazz up your videos with custom video filters and a variety of music
You can now combine multiple clips from camera roll when creating a new video
Cons
Max. video length in 30 seconds: great for some video topics, but less ideal for others
Video capture is not supported for iPhone 3G and older.
Discussion
With fans at the Wall Street Journal and even an endorsement from The Bieb, Viddy has a lot of friends in high places. I think the user interface is a perfect blend of functionality and aesthetics, and it is surprisingly simple to navigate this function-rich app.
Viddy also has a video library that you can enjoy, which is quite cool. But what is arguably the app's best feature is their live filter previews. I've played around with tons of video and photo tools lately, and the ones that lack a live filter preview really get my goat.
Today's update to Viddy (Version 2.3) has a couple of big changes to the app. These features include the ability to re-post videos to your followers, the ability to change a video's thumbnail after it has been uploaded, and a new vignette option on video filters with option to tap to remove. You can also take advantage of an image stabilization feature for video capture, and combine multiple clips from your camera roll when creating a new video.
Out of all the new features, I'm most happy about the ability to combine multiple short clips from your camera roll when creating a new video. It's also nice that you can FINALLY save and resume a video recording that is in progress!
Conclusion and download link
The latest update to Viddy makes this app worth checking out. Whether you are checking out the app for the very first time, or considering re-visiting the app after using it in the past, Viddy is a fun way to share short clips with your friends.
Price: Free
Version reviewed: 2.3
Requires iPhone/iPad/iPod Touch, iOS 5.0 or later
Download size: 22.6 MB
Related Posts